Husky Demonstrates Diverse Packaging Solutions for All Applications and Capabilities at China Brew and Beverage 2018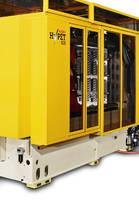 BOLTON, Ontario – Husky Injection Molding Systems, a leading industrial technology provider to the plastics processing community, successfully kicked off its first day at China Brew and Beverage 2018 (October 23-26, Shanghai, China). At its booth, located in Hall W2 #2B32, Husky is showcasing how its diverse range of rigid packaging solutions for the beverage, food, home, beauty and personal care markets help customers achieve optimized productivity while producing the highest quality parts at the lowest total cost.
"We are excited to be back exhibiting at CBB as it allows us to further connect with customers in China and the Asia Pacific region to better understand their needs; allowing us to continue developing integrated manufacturing solutions to support their business goals," said Robert Domodossola, Husky's President of Rigid Packaging. "We've developed many innovative technologies over the last several years that help to make packaging more sustainable, functional and attractive and I look forward to presenting these solutions to both new and existing customers at the show."
Husky to highlight solutions for the manufacture of rigid packaging
Husky has remained an industry leader for 65 years by proactively understanding consumer trends and their impact on global markets to deliver reliable, flexible and efficient manufacturing solutions. On its booth Husky is showcasing the range of rigid packaging solutions it offers for all production volumes, applications and capabilities, in addition to the diverse range of package design, color, shape and functionality its technology can support. Husky is also featuring collaborations with key industry partners to develop innovative solutions that respond to consumer trends and promote improved package sustainability.
Breakthrough Multi-Layer Technology
Launched in 2015, Husky's Multi-Layer Technology offers enhanced package performance, security and design, while using less material, to deliver a lower total part cost and a lower total cost of ownership. Momentum for Husky's Multi-Layer Technology continues, with now more than 30 systems sold around the world for a breadth of applications, including carbonated soft drinks, juice, sparkling water, beer, tea, dairy, food and personal care. The company has seen increased demand from customers looking to explore new and exciting applications, capitalizing on the design freedom that Husky technology provides. At CBB, Husky is 2/3 highlighting the technology's capability for various application requirements, including barriers for light, oxygen and carbon dioxide, as well as bottles with exciting new design and functional treatments that dramatically enhance shelf-appeal.
Technology investments to maximize tooling value
As an OEM supplier, Husky is dedicated to maximizing the value of customers' tooling by developing increasingly flexible solutions around its equipment that enhances value for all production volumes and packaging applications. To achieve this Husky is bringing its patented HyPET® HPP5 technology to legacy systems and tooling generations. At CBB, Husky is displaying its patented Self-cleaning Technology, which eliminates hundreds of hours of mold maintenance a year. Originally developed for HyPET® HPP5, Self-cleaning Technology is now available for all HyPET® platforms. Husky's Integrated Mold Alignment is another example of how the latest HyPET® HPP5 technologies are being applied to legacy platforms. Integrated Mold Alignment uses strategically placed sensors to provide closed loop feedback from the molding cell to the system operator, resulting in prolonged mold life, reduced regular maintenance intervals and lowered maintenance costs. Another example is Husky's new Ultra G-PET hot runner, designed to replace legacy solid skirt technology. By implementing HyPET® HPP5's superior hot runner design, customers benefit from increased longevity with an attractive payback.
A range of solutions and services to optimize the complete package
Husky is the industry's only supplier of complete manufacturing solutions for both PET preforms and closures. This unique position allows Husky to work closely with customers to deliver closures and preforms that are precisely engineered to work together. To demonstrate its capability, Husky is showcasing its industry leading manufacturing technologies, its global packaging development capabilities and how its prototyping capabilities enable faster speed to market. This June, Husky's Packaging Development Center (PDC) QC-Laboratory in Shanghai successfully received ISO 17025 accreditation for preform inspection. Formed in 2007, Husky's Shanghai PDC team offers beverage PET packaging prototype sampling, beverage closure piloting and a portfolio of inspection scope and measurements, to help customers in the Asia Pacific region meet the fast changing needs of this market.
Responsive, local service and support for Asia Pacific region
Husky first established a presence in China in 2004 with the opening of its Shanghai Technical Center, which serves as the company's regional headquarters. Over the years, Husky has built an extensive infrastructure in China and the Asia Pacific region to deliver responsive, local service and support by local experts. Its manufacturing centers are equipped with state-of-theart technology and equipment, enabling machines and tooling to be produced with the highest worldwide levels of quality.
About Husky
Husky Injection Molding Systems Ltd. is a leading global supplier of injection molding equipment and services to the plastics industry. The company has more than 40 service and sales offices, supporting customers in over 100 countries. Husky's manufacturing facilities are located in Canada, the United States, Luxembourg, Austria, Switzerland, China, India and the Czech Republic.
For more information:
Media Relations
Husky Injection Molding Systems
More from Machinery & Machining Tools