Husky Announces New Customer for Integrated Medical Systems in Russia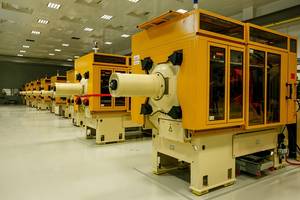 Order sees Pascal Medical install 12 Husky systems for medical applications
BOLTON, Ontario – Husky Injection Molding Systems, a leading industrial technology provider to the plastics processing community, today announced a strategic win with Pascal Medical, who has purchased and installed twelve Husky systems. Pascal Medical has chosen Husky to be its partner in the creation of an innovative, technologically advanced product complex for the manufacture of sterile, disposable medical products.
Committed to becoming a leading player in the Russian market, Pascal Medical has been working in close partnership with Husky to set up its state-of-the-art facility in Dubna, Russia, with the goal of creating an industry-leading manufacturing organization, capable of replacing foreign-import medical products with premium quality domestic production. Currently focused on disposable syringes, the company plans to expand its product range in the future to include prefilled syringes, infusion and transfusion systems, catheters, vacuum blood collection systems, and parts for epidural anesthesia.
Husky has been involved in all aspects of the project, including the planning for a 10,000 square meter factory, syringe design development, and selection of assembling machines, clean room suppliers and even personnel. With its combination of proven system and machine platforms and the industry-leading precision of its medical tooling branded under the Schöttli banner, Husky is able to provide comprehensive, integrated system solutions for the manufacture of medical disposables. Working with a single source supplier minimizes operational risk for Pascal Medical, allowing the organization to focus on producing the highest quality parts.
"We are thrilled to be working so closely with Pascal Medical as they complete the first stage of their project, and we look forward to continuing our partnership as they expand production lines and the range of injection molded products they offer," said Robert Domodossola, Husky's President of Medical and Specialty Packaging. "As was the case for beverage packaging in Russia twenty years ago, currently there is very little local production of medical disposables."
The Dubna facility opened and began production on September 27th, with integrated Husky systems installed and producing quality parts. With its team of highly qualified professionals boasting years of experience, Pascal is looking at complete production cycles using premium equipment suppliers with the most advanced engineering technology in order to ensure strict compliance with both Russian and international quality standards.
"Our aim at Pascal Medical is to become a world-class supplier, producing the highest quality plastic medical applications. With Husky as a strategic partner in this effort, we feel confident in our ability," said Alexander Fedorov, CEO of Pascal Medical. "We started construction on our state-of-the-art facility in July of 2016, and today the plant is open and fully operational. The expertise that Husky brings to the table in this industry is extremely valuable to us."
About Husky
Husky Injection Molding Systems Ltd. is a leading global supplier of injection molding equipment and services to the plastics industry. The company has more than 40 service and sales offices, supporting customers in over 100 countries. Husky's manufacturing facilities are located in Canada, the United States, Luxembourg, Austria, Switzerland, China, India and the Czech Republic.
More from Packaging Products & Equipment