Hurco to Stress Breadth of Machine Range for Producing Prismatic and Turned Parts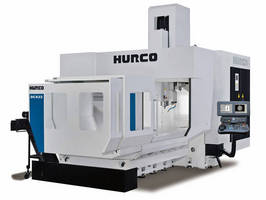 The main theme of Hurco's participation at MACH 2012 will be to show how much the company's machine tool range has expanded in a relatively short time. Nine representative machines from the company's vertical machining centre and CNC lathe programmes will be on show.

There will also be a 5-axis, high-speed machining centre from Roeders, Germany, for which Hurco acts as sole agent in the UK and Ireland. All 10 machines will be under power and cutting metal.

All of the MACH 2012 demonstration machines will be available for shipment immediately after the show and are being offered at a five per cent discount for anyone placing an order prior to the start of the exhibition.

The popular, best-selling VM machining centre range will be represented by the compact VM10 and VMX10U machines. The latter, fitted with the proprietary twin-screen WinMax control, is the company's smallest 5-axis model and is one of four such Hurco machines on display.

Demonstrating the higher power and larger capacity VMX range of machining centres will be the VMX60m with 1,524 x 660 x 610 mm axis travels and the smallest model, VMX24m, while the 5-axis VMX30U with 40-position toolchanger will be on show for the first time at MACH.

The 20-tonne DCX 22 dual column machine with 2,200 mm x 1,700 mm x 750 mm travels and six tonnes table load capacity will occupy a large part of the stand. On show for the first time, the machine at the show is already sold and is one of two DCX22 machines due for delivery to UK customers during April 2012.

Completing Hurco's prismatic metalcutting machine line-up at MACH will be the VMX42SR 5-axis machining centre with horizontal rotary table and swivelling B axis.

This type of 5-axis configuration is becoming increasingly popular. It is because, in addition to the space on the rotary table for 5-sided machining, there is also room on the machine table for a vice that allows the sixth side of a previously machined component to be accessed for a second operation. The result is a complete component off after every cycle.

Representative of Hurco's 14 CNC lathes will be a TMM10 with 18 kW spindle and 250 mm chuck, plus milling capability on all of its 12 VDI 40, axial tools.

There will also be a TMX8MY, which will be shown for the first time at a MACH show. It is a heavily built, powerful, higher performance lathe with VDI 40 driven, radial tooling with the extra flexibility and agility that is offered by the addition of a Y axis.

At 250 square metres, the stand will be Hurco's largest to date. To support the anticipated increase in visitor numbers, the company will have more than 20 staff working continuously on the stand throughout the show.

European launch for Roeders machine

For the first time at a European show, Hurco will exhibit the compact, super-high-precision Roeders RXP200DS. Having a 200 mm cube working envelope, it is the smallest of the highly dynamic, 5-axis machining centres offered by the German manufacturer.

The -30 / +115 degree trunnion-type machine boasts 40 m/min rapids, 2g acceleration and a 60,000 rpm spindle and is targeted towards extremely precise micromachining applications. The levels of detail and surface finish quality are higher than those achievable on other machining centres, it is claimed.


Related