Humphrey Twin Rod Air Cylinders Provide Precise Linear Motion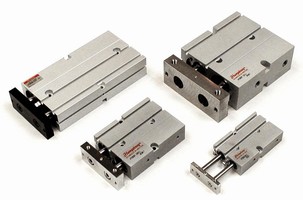 Humphrey Twin Rod air cylinders are a cost-effective means of achieving precise, non-rotating linear motion. The twin rod design has less than 1/3 of a degree of rotation, allowing precise rod alignment and virtually eliminating rod endplay for guided linear motion. Cylinders have a rectangular body that simplifies mounting, saves space in multiple applications, and makes it easy to achieve precise angles. In addition, having two cylinders integrated into a single housing produces twice the force of comparably sized conventional cylinders.

Twin Rod cylinders are available in single and double acting models, with strokes from 1/2" to 4" all having built-in fine stroke adjustment, in six bore sizes from 1/4" to 1-1/4". Integral magnets permit mounting sensor switches on three sides. Rod end plate accepts a range of other pneumatic devices. Options include End-Keep(TM) which locks rods in the event of a pressure loss and long bushings to accept side loading.

More from Software