Hub Board suits Dual-Star fabric-based ATCA shelf.
Press Release Summary: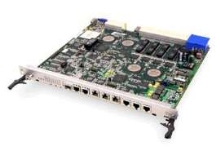 Compliant with PICMG 3.0/3.1 specifications, Model ATS1460 Blade provides separate control plane switching, data plane switching, and storage plane switching for ATCA shelves. It supports gigabit Ethernet on base control network, and on fabric network, it supports both gigabit Ethernet for data and 2-gigabit Fibre Channel for storage. All 3 networks are non-blocking and feature wire-speed learning. Unit also supports CLI, telnet/SSH, SNMP, RADIUS, and web interface.
---
Original Press Release:
Diversified Technology, Inc. Expands AdvancedTCA Product Line with New Switch Blade

ATS1460 Switch Blade to compliment DTI's Targa Series of ATCA Solutions

CTIA Wireless / New Orleans, LA - March 11, 2005 - Diversified Technology, Inc. (DTI) will be introducing its new AdvancedTCA. Hub Switch at next week's CTIA Wireless 2005, Booth 1774. The ATS1460 Blade is an AdvancedTCA hub board for a Dual-Star fabric based ATCA shelf. The board is compliant with the PICMG. 3.0/3.1 specifications.

"One of the keys to deployments for AdvancedTCA in the next generation converged and pure IP networks will be building block compatibility." stated Joe McDevitt, DTI's AdvancedTCA program manager. "DTI is simply expanding on its history of supplying off-the-shelf board level products for both TEMS and NEMS, delivering cost effective solutions for the global requirements defined by traditional and emerging service providers. TEMS now have the ability to focus on their applications with DTI's ATS1460 Switch Blade and ATC5231 Processor Blade addressing the computing and shelf management requirements for the core hardware portion."

About the ATS1460

The ATS1460 Hub Board is an AdvancedTCA 3.0 and 3.1 Option 4 switch with support for high availability. It provides separate control plane switching, data plane switching, and storage plane switching for ATCA shelves. It supports gigabit Ethernet on the base control network. On the fabric network it supports both gigabit Ethernet for data and 2-gigabit Fibre Channel for storage. All 3 networks are non-blocking and feature wire-speed learning for maximum performance.

The ATS1460 features 24-port gigabit Ethernet switches on both the base and fabric data networks. Ports are provided to support the full 16-slot shelf with both redundant switches and redundant shelf managers. 9 uplink ports on fabric, and 8 uplink ports on base are also provided for connections between shelves and to outside networks. Both switches feature layer 2 switching and layer 3 routing as well as advanced features such as a DHCP server, independent VLAN learning, VRRP, RIP, OSPF, rapid spanning tree, DiffServ, and access control lists among others. With support for a industry standard CLI, telnet/SSH, SNMP, RADIUS, and a web interface, the ATS1460 provides robust management. Both switches also feature a 400MHz CPU with 128MB SDRAM and 32MB flash for the most demanding of applications.

The ATS1460 also features a 16-port Fibre Channel switch for storage traffic. A full 16-slot shelf and redundant switches are supported. A 4-gigabit Fibre Channel uplink port can be used to connect to an external SAN or another shelf. The switch can act as a hub or a switch for both direct-attached and network-attached storage. An advanced but easy to use management is provided with over a CLI, telnet/SSH, SNMP, and through the web. The Fibre Channel complex features a 200MHz CPU with 256MB DDR and 64MB flash for user applications.

The ATS1460 hub board is the perfect switch for any AdvancedTCA system that requires top performance, high availability, and robust management.

About Diversified Technology's Targa Series of AdvancedTCA Solutions

Diversified Technology, Inc. delivers the base platforms for open standard, modular communication platforms via its Targa Series of AdvancedTCA. Platforms. The Targa-5 (5 slot) and Targa-14 (14 slot) are fully integrated solutions designed for deployment into the Telecom and Datacom market segments and are powered by DTI's AdvancedTCA. CPU blades that utilize Intel. processors. The full mesh backplane and advanced system monitoring capability are standard features of the platform along with the PICMG. 3.1 compliant Hub Switch node. DTI's Targa solutions are also delivered with MontaVista Linux Carrier Grade Edition (CGE) supporting high availability and robust requireme nts of the communications market.

For over three decades, DTI has addressed the high-end, industrial computing requirements of the expansive communications market. Wireless, VoIP, Unified Communications and Speech Recognition are developed and deployed in a fraction of the time. The Targa series of AdvancedTCA. solutions are the merger of DTI's commitment to the first-to-market comms platforms and the PICMG. 3.x specification for open standards hardware. Visit our AdvancedTCA site for more information on DTI's Targa Series (http://www.atcatogo.com).

About Diversified Technology, Inc.

Diversified Technology, Inc., an Ergon Company, has been a leading designer/manufacturer of single board computers, embedded platforms, and rackmount systems in the industrial computing market for over 30 years. As a silver member of the Intel. Communications Alliance and an ISO9001 certified company, DTI provides Intel. Architecture-based computer boards, systems, and products for next generation processing applications. For more information of Diversified Technology, Inc., visit us on the web at (http://www.dtims.com).

All trademarks and tradenames are the property of their respective owners.

Joel Deer; Marketing Communications; joel.deer@dtims.com; 601.856.4121

Customer Contact Information:

DTI Sales; Diversified Technology, Inc.; 476 Highland Colony Parkway, Ridgeland, MS 39157 1.800.443.2667; sales@dtims.com; www.dtims.com
More from Printing & Duplicating Equipment