HPLC Columns separate highly polar compounds.
Press Release Summary: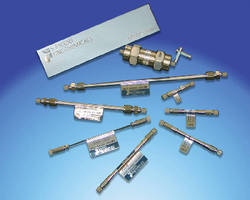 Developed by introducing adamantyl groups as functional group of reversed stationary phase of HPLC column, Shiseido Capcell Pak ADME Columns provide ADME separation characteristics with balance between moderate hydrophobicity and extra-high surface polarity. HPLC particle technology uses polymer coated 2.7 µm particle with 1.7 µm core and a 0.5 µm porous outer layer. Polymer coating eliminates effects of unprotected silanol groups on packing material.
---
Original Press Release:

Shiseido Capcell Pak ADME Columns for HPLC



JM Science offers a new line of Shiseido HPLC Columns. The Capcell Pak (Adamantylethyl) ADME is developed by introducing adamantyl groups as the functional group of the reversed stationary phase of a HPLC column. The changed alkyl structure of adamantyl group provides ADME separation characteristics with a balance between moderate hydrophobicity and extra-high surface polarity that is completely different from the conventional C18.  C18 is the most popular stationary phase used in reversed-phase chromatography, but has difficulty in retaining highly polar compounds.



With the novel balance between hydrophobicity and polarity never experienced by other reverse-phase columns, ADME provides improved separation of difficult-to-separate, highly polar compounds such as, for example, metabolites of tryptophan.



This newest HPLC particle technology uses a polymer coated 2.7 um particle with a 1.7 um core and a 0.5 um porous outer layer. The Capcell Core technology results in faster and improved separations in UHPLC as well as conventional HPLC. The features and benefits can be summarized as follows:



(1) The polymer coating eliminates the effects of unprotected silanol groups on the packing material

(2) Efficient separations with lower back pressure

(3) Get the highest separation efficiency with the fastest analysis times even in conventional HPLC

(4) Excellent stability in both acid and basic conditions (pH 1.5-10)

(5) Wide selection of column chemistries available including C18, AQ (C27), PC (Hilic), PFP (pentafluorophenyl) and ADME



For more information contact us at 716-774-8706 or visit us at www.jmscience.com