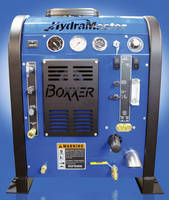 What amazes users about the new Boxxer 323 from HydraMaster is its ability to deliver consistently hot water at up to 2,500 psi and 3.4 gpm ... outdoing almost every machine in its class.

The key to this groundbreaking truckmount system is the stainless steel used in all major solution-system components, a stainless steel cross-flow heat exchanger, and the system's ability to extract the greatest possible energy from the engine and blower exhaust streams.

As revolutionary as this is, the system uses many HydraMaster components that have long proved their reliability.

For more information, visit www.hydramaster.com, or call toll-free: (800) 426-1301.

About HydraMaster

HydraMaster is a leading manufacturer of truckmount carpet cleaning equipment along with complementary tools and accessories. The company introduced its first truckmount machine in 1971 and has long been considered one of the most innovative manufacturers in the carpet cleaning industry.

Based in Mukilteo, Washington, HydraMaster now manufactures an entire range of tools and equipment as well as chemicals and related products for both carpet cleaning and floorcare.

Contact Information:

HydraMaster Headquarters

11015 47th Ave. West

Mukilteo, WA 98275

Attn: Nick Wiebe

nickw@usproducts.com

Toll-free: 800-426-4225

Providing educational articles and information for the professional cleaning, building, hotel, hospitality, medical, and educational industries.

More from Chemicals & Gases