How Can a Used Baler Save You Money?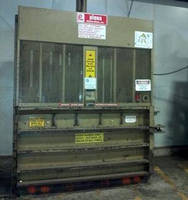 Balers in the material handling industry are used to compress disposable waste products such as plastics, paper, cardboard, metals, and other materials. Originally balers were used in agriculture to compress hay, straw, and cotton into bundles for easier transportation. Now in an industrial setting they are used similarly to compress and bundle disposable material for ease of storage and transportation.



Storage space requirements for disposable products can be significantly reduced with a used industrial baler. Not only is the disposable product densely packed in to bundles, but they are also shaped like cubes, which can be easily stacked to save even more space. Baled products also reduce the number of loads of waste that leave your facility, saving you on transportation costs.



You can actually make back your investment in a used baler with recycling and scrap income. Scrap companies will actually pay you for your baled metals depending on the type of metal it is. Other recyclable goods can be baled together for more efficient recycling when compared to loads that are not baled.



Used balers from American Surplus Inc. are very reliable, and include a 30 day ASI guarantee. Quality used material handling equipment helps people save money while still fulfilling their needs. Call American Surplus today, we will gladly provide solutions to your material handling concerns. Our knowledgeable sales staff will help you determine the right used baler to fit your exact needs, and budget.



More from Architectural & Civil Engineering Products