Housed Voice Coil Actuator provides all-inclusive package.
Press Release Summary: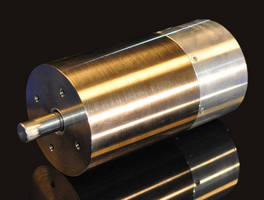 Measuring 2.8 in. dia x 5.3 in. long, LAS28-53-00A incorporates position feedback sensor with analog output for servo positioning or velocity control. Shielded cables and connectors allow plug-and-play installation, while shaft and bearings, contained in housing, negate need to design parts to capture coil and field assemblies and maintain concentric position. Able to mate with Quicksilver QCI-S3-IG controller, actuator offers 1.0 in. max stroke and 60 lb peak force.
---
Original Press Release:

BEI Kimco Magnetics Introduces 'Smart' Voice Coil Actuator Featuring Built-in Position Feedback Sensor and Easy Plug and Play Installation



VISTA, Calif. -- In its continuing commitment to product innovation, BEI Kimco Magnetics, a brand of Custom Sensors & Technologies (CST), Inc., has introduced its latest generation Housed Voice Coil Actuator (VCA), the smart LAS28-53-00A. Carefully engineered as an all inclusive package, the new VCA makes it easier than ever for OEMs to design into their products.



The new LAS28-53-00A incorporates an integrated position feedback sensor with analog output for servo positioning or velocity control. The device also includes shielded cables and connectors that allow easy plug and play installation. Finally, with shaft and bearings contained in the housing, there is no need to design parts to capture the coil and field assemblies and maintain concentric position. The combination of these built-in elements eliminates the need for OEMs to add any mechanical parts, simplifying customer inventory, production and installation.



The LAS28-53-00A VCA features a maximum 1.0" stroke and a peak force of 60 lbs. Compact in size, the device measures just 2.8" in diameter (outside) x 5.3" long. The integral shielded cables and connectors mate easily with Quicksilver controller QCI-S3-IG controller.



"BEI Kimco's new smart actuator is an expansion to the first and second generation VCA housed and un-housed product lines," explains Jim McNamara, BEI Kimco Senior Applications Engineer. "This latest edition in the family brings total convenience to the customer while providing improved stroke and force capabilities."



The LAS28-53-00A is well suited for applications where high speed, high reliability and extreme accuracy are required. Pricing is from $750 each in production quantities with delivery in12 weeks.



For further information contact BEI Kimco Magnetics, 1499 Poinsettia Ave., Suite 160, Vista, CA 92081, USA, Tel: (760) 597-7042; Toll-free: (800) 572-7560; Fax: (760) 597-6320; email: sales@beikimco.com; www.beikimco.com.



About BEI Kimco Magnetics:

BEI Kimco Magnetics is a brand of Custom Sensors & Technologies (CST). BEI Kimco Magnetics was founded in 1974 and specializes in rotary and linear motion control products. The company's precision motion control products include high-speed performance Brushless DC motors, Cylindrical and Flat Voice Coil Actuators, and Linear Motors. These products are used across a wide range of applications including medical and scientific, factory and office automation, optics, semiconductor/electronics, military, aviation, space systems, and security. Kimco merges leading-edge capabilities and cost-effective manufacturing know-how with highly customized applications expertise. www.beikimco.com



About Custom Sensors & Technologies:

Custom Sensors & Technologies (CST) is a specialist in sensing, control and motion products. Through its brands, BEI Kimco, BEI Sensors, BEI PSSC, Crouzet, Crydom, Kavlico, Newall and Systron Donner Inertial, CST offers customizable, reliable and efficient components for mission-critical systems in Aerospace & Defense, Transportation, Energy & Infrastructures, Commercial & Industrial OEMs, Medical, Food and Beverage and Building Equipment markets.



Focused on premium value offers and committed to excellence, CST, with 4,700 employees worldwide and sales of $660M US in 2011, is the dependable and adaptable partner for the most demanding customers. www.cstsensors.com

More from Cleaning Products & Equipment