Hour Meter/Tachometer features 1-wire connection.
Press Release Summary: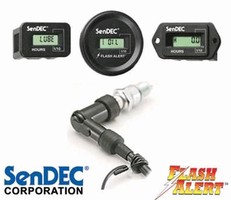 Utilizing inductive technology, Hour Meter/Tachometer eliminates complex, multi-wire hookups. One end of wire wraps around spark plug wire and other end is secured into channel on meter. Hour meter displays up to 9,999.9 hours in 1/10 hour intervals or 99,999 hours in 1 hour intervals, while tachometer gives rpm accurately down to resolution of 10 rpm. With Flash Alert(TM), programmable alarms can alert operator as to type of maintenance required.
---
Original Press Release:
SenDEC's Patented One Wire Technology Makes Engine Monitoring Easier Then Ever
The industry's only one wire connection makes monitoring engine maintenance simple Rochester, NY - November 7, 2007 -SenDEC's unique one wire hook-up means installation is easier than ever before. SenDEC has been manufacturing quality digital instrumentation for 15 years, and with continuing innovation they provide leading equipment manufacturers with the instrumentation they need. The industry's only one wire hook-up makes SenDEC's tachometer and hour meter, a product they have been producing since 1993, better then ever. SenDEC's patented inductive technology allows the user to hook up the meter with only one wire. The end of the wire simply wraps around the spark plug wire with the other end secured into a channel on the meter. This meter makes complex, cumbersome multi-wire hookups outdated and obsolete. There is no easier way to monitor run time and track maintenance than with SenDEC's inductive hour meter. SenDEC's Flash Alert(TM) makes it simple to perform service on time. Programmable alarms can display several different messages to alert the operator as to the type of maintenance that needs to be performed. The length of the interval and the messages displayed are set to the customer's specifications. The hour meter displays up to 9,999.9 hours in 1/10 hour intervals or 99,999 hours in 1 hour intervals. The tachometer gives RPMs accurately down to a resolution of 10 RPMs. The tachometer is most suitable for all single and twin, two and four stroke gasoline engines. The inductive hour meter/tachometer, like all SenDEC meters, features SenDEC quality, durability and functionality. All SenDEC meters are epoxy filled. This makes them waterproof, vibration and shock resistant, and functional across a wide range of temperatures. SenDEC meters also feature a UV resistant display that is always on. The combination of all these features plus SenDEC's one wire hook-up provides users with unmatched value and ease of use. Industry leaders trust SenDEC meters to perform under the harshest conditions. For More Information Contact: Mike George, 585-425-5965, mgeorge@sendec.com For More SenDEC products visit: www.sendec-products.com About SenDEC Corporation: SenDEC is one of the fastest growing companies in the nation and is organized into two main business units. SenDEC's Contract Electronics Manufacturing (CEM) Group provides comprehensive electronic manufacturing services (EMS) including: design for manufacturability, prototyping, PCB (printed circuit board) assembly, electromechanical assembly, test engineering, rework, turnkey box build (final product assembly) and supply chain management services. Its client base includes startups, mid-sized companies, and Fortune 500 corporations worldwide serving the commercial/industrial, consumer, energy, medical, military and telecommunications markets. SenDEC's Products Group is a leading manufacturer of digital monitoring, display and control devices that include solid-state electronic hour meters, tachometers, battery and liquid fuel gauges, volt meters and engine monitors that are used in a wide variety of gas and battery powered equipment markets. These are marketed under the SenDEC name as well as private labeled to OEMs (original equipment manufacturers) and are sourced to over 40 countries through SenDEC's global distributor network. While SenDEC's CEM and Product Groups operate as independent business units, they share the commitment to quality and customer service that has been a SenDEC tradition for over 30 years. For more information visit www.sendec.com or call 1-800-295-8000.
More from Fluid & Gas Flow Equipment