Hot Water Pressure Washer aids food processing maintenance.
Press Release Summary: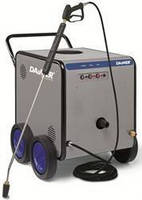 Vapor-Flo® 8410, intended for cleaning and maintenance of food processors and other machinery used within food manufacturing and packing facilities, offers 100% exhaust-free operation, pressure level of 1,880 psi, and flow rate of 0.6 gpm. While disinfection can generally be achieved with temperature of over 170°F, portable machine can create temperatures up to 205°F for removal of greasy and oil deposits. Electric pressure washer also supports upstream siphon chemical injection.
---
Original Press Release:

Daimer Debuts Pressure Washer for Food Processing Maintenance



Daimer Industries, Inc®., the globally recognized American brand of commercial pressure washer systems like gas pressure washer machines, high-end auto detailing machines, and many more technologies, is now shipping a powerful and eco-safe electric pressure washer in its Vapor-Flo® 8410.



The advanced hot water pressure washer from Daimer® offers cleaning features designed to help clean better using extra high temperatures. Improper cleaning in food manufacturing and packing facilities often leads to the proliferation of harmful and often deadly bacteria. The company's electric pressure washer features the right temperature and pressure options to help in the cleaning and maintenance of food processors and other machinery used within the facilities.



"Food-borne bacteria can develop quickly due to poor cleaning and maintenance methods," states Matthew Baratta, spokesperson of Daimer Industries, Inc®. "Daimer® is pleased to offer an effective, electric-powered pressure washer machine that can clean surfaces drastically better than other technologies. The most important goal of a food production facility is the prevention of bacteria that can lead to food recalls, sickness, and even death. Daimer® 's Vapor-Flo® 8410 offer dramatically superior cleaning power in a very easy-to-use portable machine that can be easily transported throughout a building. The Vapor-Flo® 8410's 100% exhaust-free operation makes it the ideal cleaning machine for indoor commercial and industrial cleaning operations."



The food manufacturing, packaging, and processing industry has come a long way in the past few years and involves much more than canning and freezing procedures. Most food factories and snacks manufacturing facilities focus on preserving or processing food for ready consumption. Manufacturers of potato chips, corn curls, pretzels, and other snacks use highly mechanized technologies, many of which work continuously for long hours due to high consumer demand.



The maintenance and cleaning of machinery used in snacks and food manufacturing demands the use of heated versions of high-tech commercial pressure washer systems with advanced cleaning features that are designed for eliminating build-up and tough, often stubborn deposits from different surfaces.



Disinfection can generally be achieved with a temperature of over 170°F. The Vapor-Flo® 8410 can create temperatures up to 205°F. High temperatures help remove greasy and oil deposits easily. Unfortunately, cold water temperatures are highly ineffective as professional pressure washer. The lack of heat requires dramatically higher pressure and chemicals that are unnecessary when heated machines are utilized in the cleaning process.



The Vapor-Flo® 8410 pressure washer offers a pressure level of 1880 psi and flow rate of 0.6 gpm. Higher pressure combined with lower flow help in faster and more comprehensive cleaning, and provide maintenance staff the ability to clean meticulously with relatively little physical effort.



Daimer®'s quality industrial pressure washer machines offer the most modern technologies that make the work easier for the cleaning staffs. The optional Automatic-Shutoff Technology™ (AST™) shuts off the machine when not in use for more than 30 seconds and the Long Hose Technology™ (LHT™), which is a standard feature, offers high cleaning power even while using hoses up to 300 feet in length. With the AST™, users do not need to move even 300 feet every time they take a break or otherwise want to power down the machine. The system can be powered back on by simply pulling the trigger gun.



Fuel driven models of cleaning machines such as rugged gas pressure washer systems are not permitted for use in all food factory environments, due to stringent quality rules. The Vapor-Flo® 8410 is guaranteed to help food factories adhere to the highest standards of cleanliness and hygiene. The Vapor-Flo® 8410 is available in 220-240 volt, three phase, 60Hz power and is a portable model that can be carted around a facility for optimum reach.



The hot water pressure washer also comes with an upstream siphon chemical injection which allows blending of chemicals with water if required. The machines are available in many power configurations and are designed to meet the needs of domestic and overseas customers.



For easy maintenance,Daimer®'s pressure cleaners feature the company's Modular System Design™ (MDS™) and Self-Maintenance Engineering™ (SME™) technologies that let users replace a part easily without sending the machine back to the company or a service center. All these technologies and features make the Vapor-Flo® 8410 one of the best pressure washer systems offered by the company for food related cleaning globally.



The machine includes a durable 2.5' trigger wand with quick disconnect, a 25° stainless steel pressure nozzle with an incorporated filter, and a 32' high pressure, double layered hose for convenience. Optional pressure hoses of additional lengths are also available with the machine.



Additional Information:

To learn more about the Vapor-Flo® 8410, visit the company's website or contact Matthew Baratta at (888) 507-2220. The machines can be exported to most countries worldwide.



About Daimer Industries, Inc.®:

Daimer Industries, Inc.® is the most reputed global supplier of highly advanced cleaning machines, such as floor cleaners, carpet steamers, vapor steamers, and many a top-grade car wash equipment.

Related