Hot Swap Controller has onboard ADC and I2C interface.
Press Release Summary: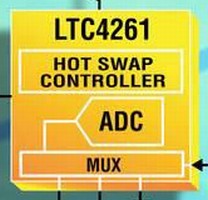 Operating from -12 to -100 V supply, -48 V LTC4261 performs power monitoring by measuring card voltages and currents as well as recording past and present fault conditions. Information in ADC's registers can be used to determine if card is using its allocated power or operating abnormally. Product can also turn supply voltage on and off in controlled manner. Inrush and overcurrent limits, undervoltage/overvoltage thresholds, and hysteresis are independently adjustable.
---
Original Press Release:


-48V Hot Swap Controller with Onboard ADC & I2C Interface Monitors Board Current, Voltages & Faults




MILPITAS, CA - October 3, 2005 - Linear Technology Corporation introduces the LTC4261, a negative high voltage Hot Swap(TM) controller. It features an onboard 10-bit ADC and I2C compatible interface, allowing sophisticated power monitoring by measuring card voltages and currents as well as recording past and present fault conditions. The LTC4261 complements Linear Technology's LTC4260, a positive 48V Hot Swap controller that also features an onboard ADC and I2C interface.

Information in the ADC's registers can be queried via the I2C bus and then used to determine if a card is actually using its allocated power, or operating abnormally. An irregular card can be flagged for service even before it fails. This advanced power monitoring, combined with a wide input voltage range of -12V to -100V and Hot Swap capabilities, make the LTC4261 ideally suited for high availability telecom/network equipment, such as AdvancedTCA systems. In these systems, careful monitoring of the health and integrity of the power distribution networks is crucial.

The LTC4261 is also designed to turn the supply voltage on and off in a controlled manner. The active current limiting results in a controlled rise in voltage across the card capacitance and protects the backplane supply from voltage drops. The inrush and overcurrent limits, as well as the undervoltage/overvoltage thresholds and hysteresis are independently adjustable, giving maximum flexibility and accuracy to proprietary designs. The controller disconnects the load if it remains in current limit beyond the time-out delay and can be configured to latch off or auto-retry following the event.

The LTC4261 has additional features to interrupt the host when a fault has occurred, notify when output power is good, detect insertion of a board, and turn off the pass transistor if an external supply monitor fails to indicate powergood within a timeout period.

Specified over the commercial and industrial temperature ranges, the LTC4261 is available from stock in 28-lead SSOP and 24-lead 4mm x 5mm QFN packages. Pricing begins at $5.95 each in 1,000-piece quantities.

Summary of Features: LTC3809-1
Allows Safe Insertion into Live Backplane
10-Bit ADC Monitors Current & Voltage
I2C /SMBus Compatible Interface
Wide Operating Voltage Range: -12V to -100V

Independently Adjustable Inrush and Overcurrent Limits
Adjustable UV/OV Thresholds and Hysteresis

Programmable Latchoff or Autoretry after Faults

Alerts Host after Faults
Foldback Current Limit
Available in 28-Lead SSOP & 24- Lead (4mm x 5mm) QFN Packages

Company Background
Linear Technology Corporation, a manufacturer of high performance linear integrated circuits, was founded in 1981, became a public company in 1986 and joined the S&P index of major public companies in 2000. Linear Technology products include high performance amplifiers, comparators, voltage references, monolithic filters, linear regulators, DC-DC converters, battery chargers, data converters, communications interface circuits, RF signal conditioning circuits, and many other analog functions. Applications for Linear Technology's high performance circuits include telecommunications, cellular telephones, networking products such as optical switches, notebook and desktop computers, computer peripherals, video/multimedia, industrial instrumentation, security monitoring devices, high-end consumer products such as digital cameras and MP3 players, complex medical devices, automotive electronics, factory automation, process control, and military and space systems.

LT and LTC are registered trademarks and Hot Swap is a trademark of Linear Technology Corp.

Worldwide Contacts

North America and General Information
John Hamburger
Tel: (408) 432-1900 ext. 2419
jhamburger@linear.com

Doug Dickinson
Tel: (408) 432 1900 ext. 2233
ddickinson@linear.com

China (PRC)
Fanny Lau
Tel: 852-2428-0303
flau@linear.com

Angela Ao
Tel: (8610)6522 8081
angela@eba.com.cn

Germany
Ralf Stegmann
Tel: +49 (0) 7131/9234-0
ralf@ezwire.com

Japan
Kazuto Takahashi
Tel: 81-3-5226-7291
takahashi@linear-tech.co.jp

UK & Scandinavia
Alan Timmins
Tel: +44-1-252-629937
a.timmins@ntlworld.com

Korea
Desiree Park
Tel: +82 (0) 2812 1144
desiree@ezwire.com

France
Pascale Honorat
Tel: +33-1-43468360
pascale@ezwire.com

Taiwan
Alice Wang
Tel: + 886-2-28974705
alice@ezwire.com


More from Optics & Photonics