Hot-Melt Adhesive System has large-volume reservoir.
Press Release Summary: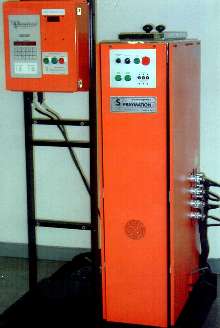 Upright, free-standing 3910 Series Thermopulse Hot Melt Unit includes 10 gal (80 lb) melt-on-demand reservoir and positive-displacement, dc-motor-driven gear pump. Suited for use with up to 4 automatic or handgun Electromatic Applicator Heads and hoses, unit holds constant pressure to within ±5%. System includes plug-in connections and MICROTEMP microprocessor-based temperature control with 10 zones. Melt rate is 32 lb/hr, and pump rate is 132 lb/hr.
---
Original Press Release:
New Large Volume 3910 Series Hot Melt Adhesive System

Spraymation, Inc., a world leader in the field of Adhesive Application Systems, announces a newly designed model designated the 3910 Series Thermopulse Hot Melt Unit that includes a large 10 gallon (80 lb.) "melt on demand" reservoir and positive displacement DC motor driven gear pump. It can be used with up to four (4) automatic or handgun Electromatic Applicator Heads and hoses. Pressure is held constant to within +/- 5%, via a closed-loop electronic control system. Pressure is constantly displayed on an LED readout.

The unit is an upright, free standing, space saving design and all connections are plug-in, eliminating field wiring. A MICROTEMP microprocessor-based temperature control with standard ten (10) zones, ensures precise temperature to +/- 1 degree F, and can be independently mounted, and easily set by keypads. User functions include scan, monitor, change, limit, trouble and setback. Digital readout of both pressure and temperature zones provide for quick and visual monitoring of the system.

Optional run-up control and timing equipment, ensures of uniform adhesive patterns, to meet specific user requirements. This system is designed to operate on 200-240 VAC/50-60 Hz/3 phase power. The melt rate of the system is 32 lbs/hr and the pump rate is 132 lbs/hr.

For additional information, contact Anthony J. Diaz, National Sales Manager, Spraymation, Inc. 5320 NW 35th Avenue, Fort Lauderdale, FL 33309-6314, telephone (800) 327-4985, or e-mail sales@spraymation.com or view our website at www.spraymation.com
More from Electronic Components & Devices