Hose Lubricant dries in less than 20 minutes.
Press Release Summary: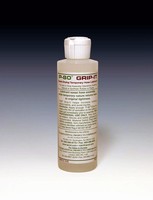 P-80® Grip-It quick-drying hose lubricant lubricates tight fitting rubber parts so they slip easily into place, then dries quickly to allow natural tight fit of rubber to return. It can be applied by automatic or manual methods including spray, bath, sponge, brush, or squirt techniques. Lubricant is compatible with metals, plastics, and natural or synthetic rubbers, and has low VOCs, near-neutral pH, and is non-toxic and non-flammable.
---
Original Press Release:
P-80® Grip-It Quick Drying Temporary Hose Lubricant Now Available from International Products Corporation
Temporary lubrication for hoses that are subjected to pressurize-testing immediately after assembly. Burlington, New Jersey, USA: P-80® Grip-It Quick-Drying Hose Lubricant is the latest addition to International Products Corporation's line of P-80® Temporary Rubber Lubricants. P-80 Grip-It lubricates tight fitting rubber parts so they slip easily into place, then dries in less than 20 minutes to allow the natural tight fit of rubber to return. P-80 Grip-It's quick-drying feature is advantageous in the installation of hoses that must withstand pressurized testing immediately following assembly, and other rubber assembly operations requiring a fast-drying lubricant. P-80 Grip-It has very low viscosity, and can easily be applied by automatic or manual methods including spray, bath, sponge, brush, or squirt techniques. Like all P-80 products, P-80 Grip-It Quick Drying Temporary Rubber Lubricant is safe for workers, the materials it lubricates, and the environment. P-80 Grip-It is ideal for any tight-fitting rubber assembly that must quickly return to its normal state. Typical applications of P-80 lubricants include the installation of o-rings, grommets, seals, diaphragms, washers, belts, gaskets, sleeves, and soft plastic parts. By easing installations, P-80 Grip-It helps increase output rates, reduce damaged parts, and prevent musculoskeletal injuries. It is compatible with metals, plastics, and natural or synthetic rubbers. P-80 products do not contain petroleum distillates, so they will not dry out or harden rubber; and unlike silicon-based lubricants, P-80 is temporary, economical, and easy to use. All P-80 products have low volatile organic compounds (VOCs), near-neutral pH, are non-toxic and non-flammable, and do not contain carcinogenic or mutagenic ingredients. When used as directed, there are no known health hazards. In addition to their line of temporary rubber lubricants, International Products Corporation manufactures a full-line of safe and effective, aqueous, industrial cleaners. International Products Corporation has offices in the United States and United Kingdom, as well as distributors around the world. The company's quality system is ISO-Certified. Free, no-obligation samples are available. For more information, or to obtain a sample, contact International Products Corporation, PO Box 70, Burlington, NJ 08016. Tel: 609-386-8770, Fax: 609-386-8438, Email: Grip-It@ipcol.com, Web: www.ipcol.com. In Europe contact International Products Corporation, Unit 5, Green Lane Business Park, 238 Green Lane, London SE9 3TL, UK; Tel: 020-8857-5678, Fax: 020-8857-1313, Email: saleseurope@ipcol.com Contact: Kathy J. Wyrofsky V.P. of Marketing Phone: 609-386-8770 Fax: 609-386-8438
More from Packaging Products & Equipment