Hose-Continuity Tester monitors static electric charge buildup.
Press Release Summary: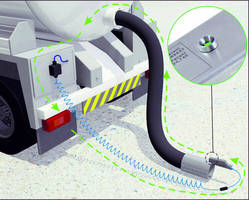 OhmGuard® Hose-Continuity Tester ensures assembled hoses are grounded to transferring vehicle during times when combustible gas, vapor, or dust atmospheres may be present. Operating as pass or fail test, instrument attaches to free coupling or nozzle of last hose connection and vehicle grounding point. It features green LED on OhmGuard® clamp, which pulses continuously if electrical resistance is below 100 Ω and stops to warn operator of danger. Product has IP65 ingress protection rating.
---
Original Press Release:
Static Electric Charge Buildup Averted In Cleaning, Recovery, or Delivery Transfer Hoses
During product delivery, tank cleaning or spill recovery operations, merely grounding the transporting vehicle may not be enough. Static electricity can still accumulate to dangerous levels in isolated metal components of commonly used helix-wire transfer hoses.

The new OhmGuard® Hose-Continuity Tester from Newson Gale, is designed to continuously ensure that a string of assembled hoses are safely grounded to the transferring vehicle during operations that may produce potentially combustible gas, vapor or dust atmospheres.

In practice, the new instrument operates as a simple straight-forward "pass or fail" test.

The operator will first securely ground the vehicle and then assemble and connect the required number of hose sections. The OhmGuard® tester is then attached to the free coupling or nozzle of the last hose connection and to a confirmed grounding point on the vehicle. If the total electrical resistance through the string of hoses is below the accepted standard of 100 ohms for multi-segment hoses, a green LED mounted on the OhmGuard® clamp will pulse continuously. If there is a break in the continuity the pulsing will cease, warning the operator of the danger.

The new instrument is North American (cCSAus) certified in classes I, II and III. Ingress protection is rated IP65, providing total protection against dust and low-pressure water jets. Models are available with either 32 ft (10 m) or 50 ft (15 m) Hytrel 2 core spiral cable, with either an LED indicator clamp or optional permanent junction box.

Additional information on the OhmGuard® hose continuity tester is available on our website, listed in the Mobile Products section of the "Our Products" dropdown.

Contact:
Newson Gale Inc.
460 Faraday Ave.
Bldg C
Jackson, NJ 08527
Phone: 732-961-7610
Website: www.newson-gale.com 
E-Mail: groundit@newson-gale.com

 
Related