Horizontal Mating Connectors handle high current loads.
Press Release Summary: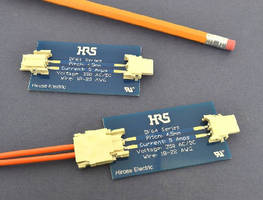 Available for board-to-board and board-to-wire interfaces, 2-position DF64 Series measures 20.4 x 14.4 mm with mated height of 4.7 mm. Two-piece connectors use 18–24 AWG wire and can carry 5 A of current. Enclosed contacts minimize danger to operator, while creepage distance of 3.2 mm helps prevent arcing. With voltage rating of 350 Vac/Vdc and operating temperature to 105°C, RoHS-compliant connectors are suited for LED lighting, medical devices, copiers, and factory automation controllers.
---
Original Press Release:

Hirose's New DF64 Series: Low Profile Horizontal Mating Connectors Engineered for High Current Loads



SIMI VALLEY, CA -- Hirose, a leader in the development of innovative connector solutions, is now taking orders for its newest connector: the DF64 Series, a Horizontally Mated 2-Piece Connector System. Made available for board-to-board and board-to-wire interfaces, the 2-position DF64 Series connector measures 20.4 x 14.4 mm and has a mated height of just 4.7 mm. Developed for higher power applications, the DF64 uses 18-24 AWG wire and can carry 5 amps of current.



Unlike conventional horizontally mated connectors that require a different series of connectors between board-to-board and board-to-wire interfaces, the DF64 Series features a common receptacle that mates with the header and the cable plug. As a result, manufacturers using the DF64 Series can simplify their assembly and eliminate the time and cost needed to maintain inventory of any additional components. In addition, the DF64's simplified assembly provides high connection reliability while enabling easy and efficient repairs when necessary.



Additional features of the Hirose DF64 Series connector:




Patent pending; the wide effective mating width and length (± 0.5 mm in the X direction and 2 mm in the Y direction). This allows the connector to compensate for manufacturing tolerances and thermal expansion in use.



The enclosed contacts in the housing maintain contact integrity and reduce danger to the operator from accidental finger contact.



Long creepage distance (3.2 mm MIN) helps prevent arcing.



The friction lock on the board-to-board interface provides the strength and retention needed to ensure a secure connection.



"Our customers are telling us they need to get more power into smaller spaces," said Rick van Weezel, vice-president of sales and marketing for Hirose Electric USA.  "The DF64 Series, with its small footprint and a current rating of up to 5 amps addresses this need. The DF64 Series is an apt design choice for any device needing a compact type of power and an ideal solution for many LED lighting applications."



The Hirose DF64 Series connectors are UL Recognized and they carry a voltage rating of 350 V AC/DC.  They are RoHS compliant, halogen-free, and are capable of operating at 105°C.  Typical applications for the Hirose DF64 Series connectors include LED lighting, medical devices, copiers, factory automation controllers and general board to wire connections.



Pricing and lead times are available upon request. For additional information about the Hirose DF64 Series connector, please visit: www.hirose.com.



ABOUT HIROSE ELECTRIC

Hirose Electric Co., Ltd. is a leading global supplier of innovative interconnects, with sales of approximately US $1 billion to customers worldwide.  Hirose employs advanced engineering services, superior customer support and worldwide manufacturing capabilities to provide value-based connector solutions for various industries including: telecommunication, consumer electronics, computer and automotive. More information can be found on Hirose Electric's corporate website at www.hirose.com.

More from Electrical Equipment & Systems