Horizontal Machining Center is available with 0.001° B axis.
Press Release Summary: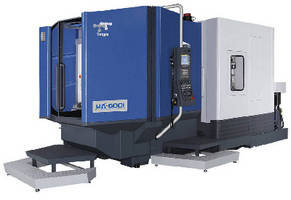 Equipped with 3-axis servo using FANUC's low inertia servo motors and solid couplings, Tongtai HA-500II provides heavy-duty cutting with up to 2,362 ipm rapid feed. Roller type linear guide ways are used in feeding axes and anti-dust gaskets are used on slider blocks to avoid metal chip invasion. For heavy duty machining, standard 1° B axis uses indexing device for positioning. Automatic tool changer features tool changing time of 1.5 sec in T to T and 3 sec in C to C.
---
Original Press Release:

New Tongtai HA-500II Horizontal Machining Center



Absolute Machine Tools, Inc., Lorain, Ohio, is pleased to introduce the HA-500II, Tongtai's latest Horizontal Machining Center.  Taking aesthetically pleasing sheet metal design into consideration, the HA-500II has also improved its industrial design and user-friendly operation interface design. 



The spindle adopts a high torque built-in type motor, 75mm diameter ceramic bearings, and grease lubrication that help maintain excellent rigidity during high speed machining. In addition, it uses recyclable coolant on the exterior of the bearings and compressed air in the motor for controlling the temperature from rising so as to keep stable thermal distortion in the spindle.



Three (3) axes servo adopts FANUC's low inertia servo motors and solid couplings. This not only has high torque output for heavy duty cutting with up to 2362"/min. rapid feed, but also improves the acceleration/ deceleration speed of the feeding axes for shortening idle time. Furthermore, roller type linear guide ways are used in the feeding axes as well as optimum preload, increasing machine rigidity in machining. Moreover, high anti-dust gaskets are used on the slider blocks avoiding metal chips invasion.



For heavy duty machining, our standard 1 degree B axis uses an indexing device for positioning.  A 0.001 degree B axis is available and its high intensity copper alloy has the advantages of low friction and high rigidity. In addition, with an encircling brake mechanism, the machining accuracy in B axis is increased.



The automatic tool changer adopts a Japanese made cam type tool changer for increasing the stability during tool changes. The time of tool changing is 1.5 seconds in T to T and 3 seconds in C to C.



Customized user-friendly interface incorporates an intelligence system which includes: tool management system, maintenance map, and Tongtai's integrated monitoring system. All of the aforementioned greatly increases the machining efficiency.  In addition, the hydraulic system and cooling system equipment is stored on the floor to avoid the machine being influenced by thermal fluctuation and vibration. Plus, centralized management of the air pressure and lubrication systems facilitates daily maintenance. The lubrication system uses the latest grease lubrication system which, compared to earlier designs, not only decreases the electrical supply frequency for energy savings, but also reduces the pollution generated while recycling.  That also extends the usage time of the coolant. Moreover, the machine width is shortened by 10% with the minimal width across the front of 8.5' helping to increase your shop's floor space.



About Absolute Machine Tools, Inc.

For 25 years, Absolute Machine Tools, Inc. has provided advanced metalworking solutions and comprehensive services for production machining, mold/die machining, and production turning. A leading importer and distributor of high-performance CNC machining and turning equipment, the company helps machine shops and manufacturing facilities improve their production processes to be more competitive in a tough global environment.



Products and Services

Absolute Machine Tools works with its partners to offer the most rugged, accurate, and productive machine tools in the industry. It also supplies a diverse range of previously owned equipment. The company has built its reputation on unsurpassed applications-engineering service and support, comprehensive training, and innovative preventive-maintenance programs. In addition to its three regional offices, a nationwide network of regional servicing distributors is in place to help North American manufacturers with their toughest production challenges.



Absolute's partners include:

• Roundtop (Johnford) Machinery – OEM of heavily-constructed and highly productive Johnford machining and turning centers and large boring mills.

• Tongtai – (former manufacturer of Hitachi-Seiki CNCs)  OEM of high performance, high productive turning centers, 5-Axis machining centers, and premium horizontal machining centers.

• You Ji – OEM of massive custom-built (turn-key style) vertical turning centers

• APEC – OEM of high speed gantry style double column machining centers.

• AccuteX EDM – OEM of CNC wire EDMs, die sinker EDMs, and hole drilling EDMs.

More from Cleaning Products & Equipment