Horizontal Machining Center handles large payloads.
Press Release Summary: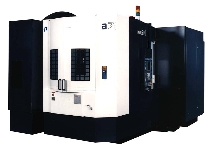 Model a71 horizontal machining center, with 20 in. pallet and standard 50-taper, 10,000 rpm spindle, is designed for medium- to high-volume production. It offers ring-type, 60-tool magazine, with 6-12 sec seek times, complemented by automatic tool changer with 1.7 sec tool-to-tool and 3.2 sec chip-to-chip times. System includes next generation Geometric Intelligence (GI) servo control and handles payloads of 1,540 lbs with traverse rates to 1,968 ipm.
---
Original Press Release:
Makino Expands 1-Series Family

a71 HMC Employs 50 Taper Spindle and 500mm Pallet

MASON, OH-May, 2002-Makino is continuing to expand and diversify its product offerings by introducing the a71, the newest market addition to Makino's competitively-priced, 1-series line of horizontal machining centers (HMC). The a71 can help drive out manufacturing costs by providing high-speed performance, high reliability, durability, simplicity and throughput.

Following the successful introduction of the a51, Makino's a71 is the next in the line of economical, high-quality machine series. It is ideal for manufacturing applications that require less precision but the same throughput and reliability of Makino's premiere A-series machines.

"We set out to significantly broaden our product line this year," Makino President Don Lane says. "The 1-series is being developed to provide our customers with a value-oriented HMC equipped with advanced technology. The a71 is a top-notch machine designed to drive out long-term operational costs."

a71 Benefits and Features

The primary benefits of the Makino a71 include swift axis movement and faster spindle acceleration/deceleration than other HMCs. Out-of-cut time is diminished because of the machine's standard ring-type, 60-tool magazine with short seek times (6 to 12 seconds) that is complemented by a quick automatic tool changer that has fast tool-to-tool (1.7 seconds) and chip-to-chip (3.2 seconds) times.

Makino's a71 is the largest in the 1-series line to date and can handle a payload of 1,540 pounds (700 kg). It has a 20-inch (500-mm) pallet and a standard 50 taper, 10,000-rpm spindle with exceptional acceleration characteristics and minimal vibration. The spindle is equipped with a 300-psi coolant system. Options include a high-powered, 6,000-rpm spindle.

Rapid traverse rate of the a71 is equal to the a51 at 1,968 ipm (50 m/min), while cutting feedrate is higher at 1,968 ipm (50 m/min). The a71 is capable of simultaneous B-axis movement with tool change and X-, Y-, Z-axis travel of 28.7 x 28.7 x 31.5 inches (730 x 730 x 800 mm).

The a71's footprint, which is 118 inches wide x 190 inches deep (3,000 x 4,825 mm), is smaller than most competitive machines and is designed for easy maintenance access around the entire perimeter. High-volume chip evacuation is facilitated by a wide-center trough with a standard rear discharge lift up chip conveyor that includes a coolant leakage protection design.

Other features include an automatic pallet changer with safety guard, a standard three-point support system, an ergonomic swing operator control panel, a safety-designed four-layer protective operator door window and a standard air filtration unit and overhead shower coolant.

The a71 comes standard with Makino's proprietary, next generation Geometric Intelligence (GI) servo control with Radical Mode. GI with Radical Mode helps provide the lowest cycle times achievable, while maintaining accuracy and meeting the customer's Cpk requirements.

Makino now offers three machine solutions to a customer base with diverse needs:

- 1-series for medium- to high-volume production shops, first- and second-tier automotive parts suppliers and general contract machining operations;

- A-series for high accuracy and maximum flexibility of cutting materials;

- J-series for high volume production automotive parts applications.

Makino is a global provider of advanced machining technology and application support for the metalcutting and die/mold industries, dedicated to driving out more costs from your manufacturing operation than any other competitive machine tool manufacturer. Makino manufacturing and service centers are located in the United States, Japan, Germany, Singapore, Italy, France, Korea, Taiwan, China, Mexico, Brazil, and India, and are supported by a worldwide distributor network. For more information call 1.800.552.3288, or visit Makino on the Web at www.makino.com.
More from Sensors, Monitors & Transducers