Horizontal Heat Treating System suits aerospace industry.
Press Release Summary: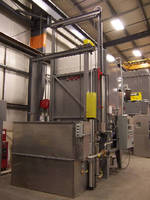 Designed to solution-treat aluminum, natural gas fired batch oven with non-heated manual quench tank accepts 4 x 4 x 4 ft basket and is rated for 1,250°F max and 1,100°F normal operating temperatures. Heating system features 500,000 BTU/hr air heat burner, and hearth consists of 2 rows of wheels rated for 3,600 lb loads. Recirculation system and programmable temperature controller lend to temperature uniformity of +5.4°F/-1.8°F @ 600°F and +5.3°F/-6.1°F at 1,100°F.
---
Original Press Release:

Horizontal Solution Treat System Heat Treats Aluminum for the Aerospace Industry



Wisconsin Oven designed and manufactured a natural gas fired batch oven with a quench tank to solution treat aluminum for the Aerospace industry. The equipment is designed to accept a 4' wide x 4' high x 4' long basket. The oven is rated for a 1,250°F maximum operating temperature and a 1,100° F normal operating temperature. The customer required temperature uniformity of ±10°F at 600°F and 1,100° F per AMS 2750D Class 2 furnaces and Type C Instrumentation. A nine point temperature uniformity survey (TUS) using calibrated wire in an empty oven chamber under static operating conditions was conducted with the results exceeding their requirements (+5.4° F/ -1.8° F at 600° F and +5.3° F / -6.1° F at 1,100° F). A System Accuracy Test (SAT) was also performed using temporary thermocouples to further insure proper operation.

The oven is fabricated with 6" of insulation in a CAN style construction. The inner shell and ductwork are fabricated with 18 gauge 304 stainless steel. The hearth consists of two (2) rows of wheels, rated at a capacity of 3,600 pounds gross loading weight. The heating system features a 500,000 BTU per hour air heat burner including a motorized gas control valve, flame detector and flame relay with alarm horn. The recirculation system provides combination air flow and utilizes a 10,000 CFM @ 15 HP blower. The majority of the air is delivered under the work to flow vertically upward past and through the product to provide even heating.

The non-heated manual quench tank is fabricated with low maintenance, corrosive resistant,12 gauge 304 stainless steel. Water level control is provided for make-up water. Water agitation of the quench tank is provided by an agitation pump with a manifold for more uniform cooling, pulling the heated quenchant from the load. A push button station allows the oven operator to raise and lower the basket into and out of the quench tank and open and close the vertical lift door. Automated systems with heating and/or cooling are also available.

The horizontal solution treat system includes a UL certified, NEMA 12 rated control panel with IEC style push buttons and pilot lights. The oven temperature is controlled by a Honeywell DCP100 programmable temperature controller and recorded by a Honeywell DPR100 strip chart recorder. Both the oven temperature controller and recorder meet AMS 2750D accuracy requirements and provide the flexibility to heat treat a wide range of parts with multiple recipes.

For further details on this equipment, or if you would like to work with us on another application, contact our sales office at (262) 642-3938, or by email at sales@wisoven.com. For more information on our heat treat ovens or to request a quote please visit our website at http://www.wisoven.com/Drawtemperfurnaceoven.htm

More from Software