Hopper and Feeder handle dry materials.
Press Release Summary: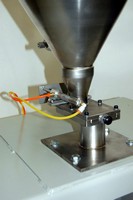 Available in sizes from 5-2,000 lb, TUFF-WRAP Hopper features gasketless access door and utilizes air distribution cone to dry all resin down to slide gate. Non-conductive TUFF-WRAP outer covering resists dents and scratches and helps optimize drying system efficiency. Fabricated from stainless steel, MINI-FEED system moves dried material from drying hopper to feed throat of molding machine or extruder. Amount can be as small as 7 g, depending on shot size of mold.
---
Original Press Release:

Dri-Air Industries Introduces Two New Products at MassPlastics 2008 Show



(Dri-Air Industries, Inc., East Windsor, CT, April 2008) - Dri-Air is pleased to introduce two new products that were on display at the MassPlastics show in Fitchburg, MA.

TUFF-WRAP Hopper Design
Dri-Air Industries has developed a new hopper design utilizing a nonconductive outer covering that increases the efficiency of the drying system. The revolutionary "TUFF-WRAP" covering also resists dents and scratches associated with other coverings and can be easily cleaned. The design of the Dri-Air hopper has features not available from other manufacturers including the gasketless access door and unique air distribution cone that dries all the resin in the hopper, down to the slide gate.
This new "TUFF-WRAP" hopper is available on all sizes of hoppers from 5 to 2000 pound capacities. "These new designs were born from an effort to actively pursue alternate and improved solutions to our advanced line of dryer systems," said Charles Sears, President. "The solid construction design provides superior damage resistance as well as long lasting aesthetics. We've seen on many occasions in molding and extrusion plants, hoppers that have dents on them from mold changes or just from general use which are not aesthetically pleasing. This "TUFF-WRAP" hopper eliminates that problem."

New MINI-FEED System
DRI-AIR Industries has also developed a new "MINI-FEED" system to move small amounts of dried material from the drying hopper to the feed throat of a molding machine or an extruder. With current designs, the amount of material stored outside of the hopper in distribution boxes and machine mounted receivers can amount to 2-4 hours of storage. During this time, the dried material is very likely to pick up moisture from the ambient air and not be usable in many applications.

With the new "MINI-FEED" system from Dri-Air, the dried material is maintained in the hopper until the machine mounted receiver calls for new material. A shuttle moves a fixed amount of material into a moving air stream to be sent to the receiver. This amount can be as small as 7 grams or any multiple of this amount depending on the shot size of the mold.

A quick disconnect is used under the feeder for easy cleaning for material changes. It is fabricated from stainless steel to avoid any contamination.

This system is ideal for small molding machines producing high quality parts such as medical devices or connectors. It is available on all small portable drying systems with one or two hoppers as well as hopper banks used as small central systems.

About Dri-Air
Dri-Air Industries is a leader in drying technology. Our plastics drying and loading systems offer a full range of solutions for drying plastic resins, mixing, blending and conveying virgin, regrind and plastic colorants. We offer advanced microprocessor control, stainless steel insulated hoppers, closed-loop loading systems and full-flo electric dryer valves.

Dri-Air Industries, Inc.
16 Thompson Road
P.O. Box 1020
East Windsor, CT 06088-1020
telephone: (860) 627-5110
facsimile: (860) 623-4477
email: sales@dri-air.com
www.dri-air.com

For more information contact:
Andrea Siy
S!Y Communications
978-465-6363
andrea@siycommunications.com

Charles Sears
President
Dri-Air Industries
860-627-5110
csears@dri-air.com

More from Electronic Components & Devices