Honing Machine integrates multilingual 9.1 in. Siemens control.
Press Release Summary: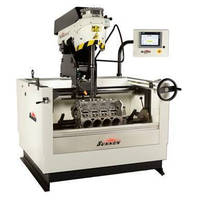 Capable of handling bore diameters from 0.750–8 in. and lengths up to 11 in. for all types of blocks up to 46 in. long, SV-15 can run, with separate 3 hp spindle and 1 hp stroker motors, standard Sunnen tools as well as the DH-series diamond hone head. Included 9 in. Siemens touchscreen PLC provides real-time display of bore shape. Along with auto dwell, features include automatic switching from roughing to finishing cycle, precise zero shutoff, and multi-position rollover fixture.
---
Original Press Release:

New Cylinder Hone Updates Proven Mechanical Design with Siemens Control and Safety-Integrated Drives



Successor to legendary Cylinder King hone, new SV-15 is even better, with Siemens control and power to drive multi-point diamond tools for the ultimate in roundness and sizing precision. Real-time display of bore shape lets operator visually confirm bore straightness or tweak stroking action.



Sunnen's new SV-15 honing machine combines the DNA of the legendary Cylinder King machine with a new 9-inch Siemens touchscreen PLC to provide more features, convenience, and even greater precision and consistency than the "King" of motorsports honing. The multi-lingual control provides a real-time display of the bore shape, allowing the operator to confirm bore straightness and make on-the-fly adjustments to correct taper – or simply confirm the action of the auto-dwell feature that efficiently concentrates honing action in tight spots. The control automatically switches from roughing cycle to finishing cycle for fast processing with the optimum finish, geometry and crosshatch angle. Precise zero shutoff ensures consistent size control, bore after bore. One hundred setups can be stored in the control, which can be backed up via the control's USB port.



The SV-15 is a versatile automatic cylinder hone capable of handling bore diameters from 0.750" to 8" (19-203 mm) and lengths up to 11" (279 mm) for all types of blocks, from single-cylinder and high-performance engines to diesel truck and industrial blocks up to 46" (1168 mm) long. The SV-15's standard multi-position rollover fixture handles inline and most 60°/90° V-type automotive blocks, and the optional CK-6200 clamp kit expands the range of blocks that can be accommodated.



With separate spindle and stroker motors – 3 hp/2.25 kW and 1 hp/ 0.75 kW respectively – the SV-15 can run standard Sunnen tools as well as the DH-series diamond hone head. Encoder-controlled stroker position ensures precision overstroke control and repeatability. High surface contact with the multi-point DH tool produces the roundest bore possible for excellent sealing with today's thinner rings. Variable spindle and stroker speeds – adjustable while in cycle – enable infinite crosshatch angles for any bore diameter and cylinder length combination.



The machine's updated safety features now include Siemens Sinamics drives for fastest response times, reduced maintenance and long-term reliability. The honing fluid reservoir/filter system holds 55 gallons (206 liters). Removable settling tanks, screens, filter cartridges (two) and filter status gauge are designed to simplify maintenance.



For additional information visit sunnen.com or email:

[email protected]

.



Sunnen Contact

Mr. Bob Davis

Sunnen Products Company

Tel: 314.781.2110



[email protected]