Hollow Core Voice Coil Motors offer low inertia, zero cogging.
Press Release Summary: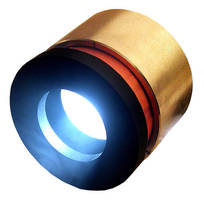 Delivering precise positioning capabilities to <0.00004 in., hollow core voice coil or moving coil linear motors comes in 23 standard sizes with 0.125–2.000 in. open apertures, 5 standard ODs from 0.625–3.750 in., and 0.125–2.500 in. stroke lengths. Hollow core of these non-commutated motors allows pass through of optics, illumination, laser beams, or cables. While continuous force ratings range from 5.0 oz to 16.3 lb, peak force ranges from 15.7 oz to 51.5 lb at 10% duty cycle.
---
Original Press Release:

Low Inertia, High Precision, Hollow Core Voice Coil Motors from OES



Van Nuys, CA – Low inertia hollow core voice coil or moving coil linear motors from Moticont feature high acceleration, precise positioning to less than one micron (0.00004 in.), high reliability, and low cost. The cleanroom friendly, non-commutated motors are available in 23 off-the-shelf standard sizes, Moticont hollow core voice coil linear motors have open apertures of 0.125 in. (3.2 mm) to 2.000 in. (50.8 mm). The linear motor's hollow core allows for optics, illumination, laser beams, or cables to pass through.  For easy integration into new and existing applications these linear voice coil motors are available in five standard outside diameters of 0.625 in. (15.9 mm) up to 3.750 in. (95.3 mm).  Stroke lengths are from 0.125 in (3.2 mm) to 2.500 in. (63.5 mm), the continuous force ratings are from 5.0 oz (1.4 N) to 16.3 lbs (72.4 N), and peak forces are from 15.7 oz. (4.4 N) to 51.5 lbs. (228.9 N) at a 10% duty cycle.  Applications include: Positioning, medical diagnostics and testing, laser beam steering, dynamic vibration absorption, optical focusing, laser cutting & welding, scanning, assembly, and wafer handling.



Low inertia, high acceleration, high speed, and zero cogging, are the benefits of moving coil or voice coil linear motors. When used in a closed loop applications with an optional position sensor, resolutions of less then 1 micron are achievable, for millions of cycles.  If longer than standard strokes, higher forces, or customized mounting are required consult Moticont's team of engineers.  All of Moticont's voice coil motors are available as complete plug-and-play systems, including, position sensor, controller, amplifier, power supply, and if required with a linear slide.



About Moticont - Moticont is a manufacturer of motion control products. Their product line includes voice coil motors, three phase brushless motors and positioning stages and slides.



Moticont is committed to exceeding their customers' quality expectations and industry standards throughout the design, manufacturing, service and technical support phases. Our modern manufacturing facility, highly controlled processes, committed staff, and extensive testing complement our product design strengths. This enables us to supply our clients with specialized small orders to high volume just-in-time deliveries.



We offer an extensive line of standard products ready to be shipped immediately from stock, and when standard products are not quite right for an application, highly trained design engineers are always available to develop custom motion control products to fit the specific needs or our customers.



For additional information contact Joseph Hanks at Moticont, 6901 Woodley Ave, Van Nuys, CA 91406; Toll Free: +1 (888)-785-1804, Tel: +1 818-785-1800, E-Mail moticont@moticont.com or visit the website at http://www.moticont.com.



Send Inquiries to:

Moticont

6901 Woodly Ave.

Van Nuys, CA 91406

Toll Free: +1 (888)-785-1804

Tel: +1 818-785-1800

More from Fluid & Gas Flow Equipment