Hollaender® Manufacturing Helps Light The Way at Highlander Accelerator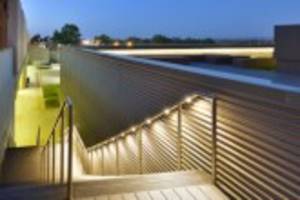 Cincinnati, OH (May 6, 2019) – Hollaender Manufacturing's Interna-Light™ stainless steel illuminated handrail with LED pods was recently installed at the new Highlander Accelerator in Omaha, Nebraska. The Highlander Accelerator is a 65,000 square-foot, reinvented commercial and community center that serves the Highlander Community.
Built on a site that slopes more than 40 feet, the building required several sets of ADA compliant handrail. Working with Kansas City based El Dorado Architects, Hollaender proposed their Interna-Light stainless steel, ADA compliant post mounted handrail, with integrated LED pod lighting systems.
Hollaender's Interna-Light illuminated railing incorporates LED lighting into the company's standard non-welded railing designs. The system uses LED pods placed in either the top rail of a railing system or in a separate or stand-alone handrail or grabrail and produces either symmetrical or asymmetric point source lighting. In the case of Highlander Accelerator, LED pods were spaced every 2 feet on the underside of the top handrail to meet specific requirements.
Interna-Light can be incorporated into Hollaender's popular railing systems including Interna-Rail®aluminum railing with metal or glass infill panels; Interna-Rail VUE aluminum railing with glass or acrylic panels; Speed-Rail® aluminum railing with metal or glass infill panels; and stainless steel or aluminum wall rail and handrails.
The 50,000-hour LEDs are available in a variety of color temperatures including 3000k (warm white), 4000k (natural white), and 5000k (cool white). Lights are typically placed an average of 2 feet on center but will vary based on the railing design and layout.
The pod lenses are polycarbonate and can be either transparent or matte. The point source lighting meets decorative or IBM egress lighting codes as required in all states.
LEDs used in the Interna-Light railing are low voltage and powered by transformers. They are tamper resistant, and can be used for indoor or outdoor applications.
For complete information, visit Hollaender.com
About Hollaender Manufacturing
Hollaender is a manufacturer and marketer of both components and engineered railing systems.
In components, Hollaender is the market leader in aluminum structural pipe fittings as well as structures that incorporate these fittings with pipe.
In engineered railing systems, often called "Decorative Metal Railing Systems," the Cincinnati-based company is a leader in aluminum, stainless steel, and structural glass railing systems.
Hollaender components are used in the design and build of handrail, guardrail, and safety rail systems, retail store fixtures, as well as a wide variety of unique modular pipe and fitting based structures for commercial, residential, public works, and industrial applications. These components and systems are marketed under the trademarked brands Speed-Rail®, Interna-Rail®, Bumble-Bee®, Newman by Hollaender™, and Interna-Light™. Hollaender also offers consultation, design, and project management services.
For More Information:
Hollaender Manufacturing
10285 Wayne Avenue
Cincinnati, OH 40285
(513) 772-8800
Fax: (513) 772-8806
Client Contact:
Leah Weller
Marketing Associate
Hollaender Manufacturing
(513) 772-8800, Ext. 123
Agency Contact:
Jeffry Caudill
President
Gingerquill
(513) 448-1140
More from Architectural & Civil Engineering Products