Hollaender® Interna-Rail® VUE Railing System Weathering Harsh Midwest Seasons at Mixed Use Development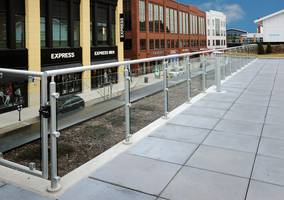 CINCINNATI, OH (November 10, 2016) - When developers Steiner & Associates were tasked with designing a new outdoor common area, known as the The Acropolis, at the Liberty Center mixed use development in Liberty Township, Ohio, they turned to Hollaender® Manufacturing for the architectural handrail system that would run throughout the area. Steiner & Associates, along with contractor Hoar Construction Design from Birmingham, Alabama, wanted a cost effective and versatile railing system that could withstand the harsh outdoor seasons the midwest can dish out. Hollaender's Interna-Rail® VUE railing system met those requirements.
The Liberty Center, situated between Dayton and Cincinnati, Ohio is a multi-use center that combines residential, commercial, and retail development. Designers and developers wanted to create an immersive experience with experiential design elements and extraordinary attention to detail; within a reasonable budget. To achieve their goals, the superior transparency and low lifetime maintenance cost of Hollaender's Interna-Rail® VUE non-welded aluminum railing system with clear anodized finish, and 3/8" clear tempered glass was selected, as the best combination of aesthetics, functionality & price.
Chris Feenke, Senior Construction Executive with Hoar Construction commented upon completion of the Liberty Center "Hoar, as overall project manager, were highly satisfied with Hollaender's performance in producing railing under tight time frames and challenging site conditions. Hollaender was a great partner."
Hollaender's Interna-Rail® VUE handrail system is an offset, post mounted fitting based railing system for glass, resin infill panels, and perforated metal, designed to combine the clean look of welded rail with all the benefits of a mechanical system. Interna-Rail® systems can be designed to meet any building code and are being used throughout the world in architectural, public works, and stadium applications.
About Hollaender Manufacturing
Hollaender is a manufacturer and marketer of aluminum structural pipe fittings, aluminum pipe, as well as final assemblies that use these components.
Hollaender is also a US market leader in the design and manufacture of complete architectural railing systems, often called "Decorative Metal Railing Systems."
Hollaender components are used in the design and build of handrail, guardrail and safety rail systems as well as a wide variety of unique modular pipe and fitting based structures for commercial, residential, public works and industrial applications, as well for retail store fixtures and other structural applications. These components and systems are marketed under the trademarked brands Speed-Rail® and Interna-Rail®. Hollaender also offers consultation, design, and project management services.
Hollaender Manufacturing
P.O. Box 156399
10285 Wayne Ave. Cincinnati, OH
45215-6399
1-800-772-8800
Fax: (513) 772-8806
Contacts:
Client:
Leah Weller
Marketing Coordinator
Hollaender® Manufacturing Company
(513) 772-8800, Ext 123
Agency:
Jeffry Caudill
President
Gingerquill, Inc.
 (513) 448-1140