Hollaender® Handrail Systems Double as Skateboard Deterrent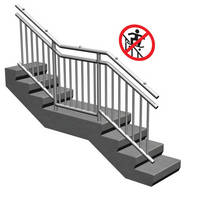 CINCINNATI, OH - Hollaender Manufacturing offers two solutions to meet increasing demand from schools, churches, local government and various other institutions for a low maintenance, skateboard deterrent handrail system. While the external fitting design of Hollaender's Speed-Rail® creates a natural deterrent, the internal fitting design of the company's Interna-Rail® system creates a smooth sleek "skateboardable" surface. Hollaender engineers have developed a very simple and attractive "stop" that can now be installed directly on top of the Interna-Rail handrail and act as a very effective skateboard deterrent.

At a minimum skateboarding wreaks havoc on the finish of handrail systems, but it's also a safety and liability issue. In many cases, the solutions designed to protect handrails are as unattractive as the damaged surfaces. The aesthetically appealing new stop can be retrofitted on installed on existing systems or can be specified with new handrail systems. It installs directly and very simply into the top rail of the smooth, internal fitting based system with a self-threading, self-tapping screw.

The long-lasting aluminum stops are manufactured from aluminum alloy 6063-T6 and are available with an architectural mill finish, or can be clear anodized or powder coated.

Interna-Rail is available in three finish options - mill, anodized, or powder coat, while Speed-Rail is offered in a mill or anodized finish and is available in a full spectrum of attractive colors, including safety colors.

Speed-Rail and Interna-Rail systems install quickly, securely and cost effectively, especially when compared to welded and other more complex systems. In addition, non-specialized workers can easily install either system. Full engineering support is available, as well as on-site installation support, if required.

About Hollaender Manufacturing

Hollaender is a manufacturer and marketer of aluminum structural pipe fittings, aluminum pipe, and infill panels, as well as final assemblies that use these components. These components are used in the design and build of handrail, guardrail and safety rail systems as well as a wide variety of unique modular pipe and fitting based structures for commercial, residential, public works and industrial applications, as well for retail store fixtures and other structural applications. These components and systems are marketed under the trademarked brands Speed-Rail® and Interna-Rail®. Hollaender also offers consultation, design, and project management services.

More from Architectural & Civil Engineering Products