HMI Panels deliver 2D or 3D image processing.
Press Release Summary: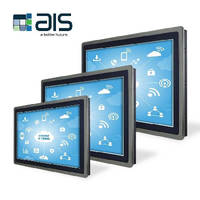 Based on Intel® Core™ i7-4650U processor, Industry 4.0 M2M/HMI Touch Panel PCs are suited for embedded machine vision applications. Units provide up to 16 GB dual-channel DDR3L-1333/1600 memory; Intel HD graphics that support DirectX 11.1, OpenCL /GL, and 4K videos; high-speed Gigabit Ethernet and USB 3.0 ports; and RS 232/422/485 serial ports. Available with 15–24 in. widescreen touch displays, panel PCs feature completely flush stainless steel fronts with IP66/NEMA 4/4X ratings.
---
Original Press Release:

AIS New Multifunctional Touch Panel and PC-Based M2M HMIs Deliver 2D or 3D Image Processing and Visualization Capabilities for Embedded Machine Vision



AIS's Industry 4.0 HMI Panels Equipped with Intel® Core™ i7 Processors, Ethernet and Serial Interfaces for Machine Vision Systems for Automatic Inspection, Process Control & Robot Guidance Industries



IRVINE, CALIFORNIA — American Industrial Systems, Inc. (AIS) the leader in the engineering and manufacturing of open architecture, Web-based HMIs, Industrial panel PCs (IPCs) and touch-panels for a broad range of industrial and commercial industries, releases their new multi-functional touch-panels and PC-based, M2M HMIs with Intel® Core™ i7 4th generation processors for embedded machine vision applications. AIS's new, open architecture, Industry 4.0 Touch Panel PCs for embedded machine visions deliver 2D or 3D image processing and offer high performance processors, Ethernet and serial interfaces, which are required for automatic inspection, process control and robot guidance industries.



AIS's Open Platform, M2M & Industry 4.0 HMI Displays Allow Powerful Capabilities for a Wide Variety of Machine Vision Applications

As an enabling visualization, control and monitoring solution, AIS's Multi-functional HMI facilitates Machine Vision (MV), which is the technology and methods used to provide imaging-based automatic inspection and analysis. Machine Vision is simply the ability of a computer to "see." A machine-vision system employs one or more video cameras, analog-to-digital conversion (ADC), and digital signal processing (DSP). The resulting data goes to a computer or robot controller. Machine Vision is similar in complexity to voice recognition. Two important specifications in any vision system are the sensitivity and the resolution. Sensitivity is the ability of a machine to see in dim light, or to detect weak impulses at invisible wavelengths. Resolution is the extent to which a machine can differentiate between objects. In general, the better the resolution, the more confined the field of vision. Sensitivity and resolution are interdependent. All other factors held constant, increasing the sensitivity reduces the resolution, and improving the resolution reduces the sensitivity. Machine Vision is used in various industrial and medical applications. Examples include:

• Electronic component analysis

• Signature identification

• Optical character recognition

• Handwriting recognition

• Object recognition

• Pattern recognition

• Materials inspection

• Currency inspection

• Medical image analysis



Vision Technology Combines Lighting, Optics, Electronics, Information Technology, Software and Automation Technologies such as AIS's Industry 4.0 Touch Panels for Control & Monitoring

According to MarketsandMarkets 2014 – 2020 outlook report, the Americas is the major market for machine vision systems. The verticals market is classified into industrial as well as non-industrial verticals which include: automotive, semiconductor, consumer electronics, food & beverage, packaging, glass, metals, printing, healthcare, military & defense, solar, logistics and many more. The vertical market accounts for a better share in the future. Machine vision is a technology which deals with images or sequences of images with the objective of manipulating and analyzing them in order to improve quality, restore images, understand and interpret the images. It is a method used to provide imaging-based automatic inspection and analysis for applications such as: automatic inspection, process control, and robot guidance in industry.



AIS's Premium, Standard & Compact Series of Powerful Touch Panel PCs Offer the Performance, Features & Functionality Necessary Machine Vision



Embedded Machine Vision applications will benefit from AIS's broad range of new web-based, touch-panels. Their new comprehensive family of PC-based, industrial touch panels including Premium, Standard and Compact HMIs offer OEMs and end-users flexibility, versatility and expandability.

• Extremely Fast System Response: High performance computing with Intel® Core™ i7-4650U processor (4M Cache, up to 3.30 GHz), high memory bandwidth with dual-channel DDR3L-1333/1600 (25.6 GB/s, up to 16 GB), Intel HD graphics supports DirectX 11.1, OpenCL /GL, and 4K videos Quick Sync encoder, high-speed Gigabit Ethernet & USB 3.0 ports, and highly flexible RS 232/422/485 serial ports

• High System Availability and Data Security: RAID 1 system supports with onboard RAID controller & two externally accessible SSD removable enclosures, and an internal non-volatile m-SATA SSD.

• Highly Reliable Touchscreens and Long Lasting Displays: Operationally tested to 35 million touches in one location without failure, touch screen positional accuracy standard deviation error is less than 0.080 (2mm), and maintenance-free illumination system lifetime rated at 80,000 to 100,000 hours in Eco mode.

• Scalable, Modular, and Expandable System: Brilliant touch displays from 15" to 24", widescreen displays with multi-touch capability, field-replaceable front displays and box IPCs, an externally accessible PCIe slot & two removable SSD storage enclosures, and 24 V DC (9.6 V to 28.8 V) isolated industrial power supply.

• Rugged and Zero Maintenance System: Completely flush stainless steel fronts with IP66/NEMA 4/4X ratings, compact and rugged aluminum system enclosures; high temperature, vibration, shock, & EMC resistant; fan-less operation up to ambient temp of 50 °C, highly reliable power and I/O ports include isolation protection.

• Comprehensive Operating System Software and Services: Supports embedded x86 platform, x86-optimized operating systems and development; Pre-installed Windows Standard 7 Embedded or Ultimate 64-bit, Windows Embedded 8.1 Industry, 8.1 Pro or 8 Standard. Offers complete software design, coding, testing, documentation services, system drivers, BIOS, and embedded firmware software design.

• Single Touch and Multi Touch-Screens Wide Screens Interfaces Options: The Premium line of HMIs ranges from 15" to 24" screen sizes with single and multiple touch, projected capacitive touch (PCT or PCAT) wide screen model options. Multi-touch screen displays are available in 15.6", 18.5" and 21.5".



Key features of the entire range of new, open HMI touch panels from AIS include:

• Open & standard interfaces in hardware & software for HMI, SCADA & MES applications

• PC-based automation using standard Ethernet & TCP/IP for easy HMI/SCADA & IT/OT integration

• Web-enabled HMI with HTML5-compliant web browsers for improved real-time decision making

• Easy to replace, highly modular designed field-replaceable front display and box PC

• Maintenance-free illumination system with lifetime rating of 80,000-100,000 hours on Eco mode

• Expandable HMI solutions with multiple configurations & options for fast project engineering

• International marks and schemes for safety equipment, certification and regulatory compliance

• Suited for IT-OT convergence, M2M communications, Industry 4.0 and IoT ready for future requirements



About AIS

Headquartered in Irvine, California, USA, American Industrial Systems, Inc. (AIS) offers in-house electronic and mechanical design, software development, manufacturing, production and quality control services. Offering one of the widest ranges of industrial computing solutions, AIS solutions are available in a multitude of configurations for industrial, oil & gas, military and marine applications. The company is fully committed to empowering, improving and delivering turnkey HMI, monitoring and display solutions for OEM, ODM and end-user customers. AIS is an ISO 9001:2008 certified supplier and manufacturer of rugged computers and displays, and received completion of the International Traffic in Arms Regulations (ITAR) registration from the Directorate of Defense Trade Controls (DDTC). For more information, visit: www.aispro.com, email: sales@aispro.com  or contact: 1-888-485-6688.



Media Relations Contact:

American Industrial Systems, Inc.

David G. Martorana

Marketing & Public Relations

1.847.630.6487 or dynmarent@gmail.com

More from Software