HMI Display features sun-readable design.
Press Release Summary: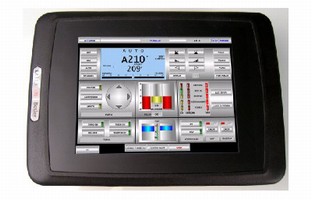 Featuring brightness of 550 Cd/m², Exter Sun-Readable Display combines standard display, enhancement film applied on internal screen to optimize brightness and contrast, and polarizing film applied on both sides of touch screen to minimize reflection. Anti-reflective coated protection glass minimizes mirror image and maximizes transmittance, while anti-glare coated protection glass scatters light directed on surface and softens image of direct light sources.
---
Original Press Release:

Sun-Readable Display Technology



Based on extensive collaboration with customers, the new Exter Sun-Readable display technology from Beijer Electronics is a result of a completely optimized overhaul which combines a solution targeted to clients´ needs with a comprehensively efficient tool. Thanks to this new range of product, Beijer Electronics intends to further position itself as a leader in sun-readable technology for process industries.

As more and more processes are controlled by HMI, market demands for outdoor LCD applications are increasing. The main applications are used in the petrochemical and waste treatment fields.

There are different ways to develop a sunlight readable/outdoor readable LCD. Sunlight visibility of a display depends on the differences between the "lumination" and "illumination" of the display. The lumination of the display is its brightness. This is the amount of light energy emanating from the display (expressed in Cd/m2). Illumination is the amount of ambient light shining onto a display. The readability of a display is dependent on the amount of light that is being reflected off of the display.

The simplest way to enhance visibility is to increase the brightness. A standard screen emits 350 Cd/m2. Some offers on the market feature 8000 Cd/m2. The result is good, but because of the added lamps, high bright LCDs have major disadvantages including high power consumption, excessive heat generation, increased dimensions,
electrical circuit reliability problems and shortened LCD lifetime.

A second option is transflective technology. Some TFT LCDs are provided with a reflective mode of illumination without compromising the transmissive illumination. With the imposed reflective function, the modified LCD can reflect the ambient light passing the LCD cell and utilize the reflected light beams as its illumination. The stronger the ambient light is, the brighter the LCD will appear. As a result, the modified LCD is viewable under all lighting conditions including direct sunlight regardless the LCD's original brightness. However, a regular transmissive LCD is very difficult to read under strong ambient light without direct sunlight. Problems noticed in transflective LCDs include a narrow viewing angle, discoloration, low brightness and loss of contrast.

The high bright LCD and the transflective LCD are the solutions generally utilized for outdoor applications. However, both solutions are not really suited for industrial use. It is thus necessary to take another route in trying to control reflected lights. As light transfers from one material to another, such as air to glass, the differences in the index of refraction will cause reflection. On a LCD screen, the cumulative reflection of the different surfaces is nearly 15% of the ambient light. If the total reflection is close to the display´s brightness, the contrast of the display
will be reduced to the point where the display's readability is diminished to unacceptable levels.

To solve the above stated problem, bond technology is a third option. It enables the coupling of the front glass and the internal glass, but the cost of this technology is still high compared to what it brings in terms of quality.

Beijer Electronics has thus developed the EXTER Sun-Readable HMI range. It is an optimal combination of technologies:

- A standard display.

- An enhancement film applied on the internal screen improving brightness and contrast.

- A polarizing film applied on both sides of the touch screen to reduce light reflection. The EXTER Sun-Readable design includes a gap of 1.5 mm, between the two screens. This distance has the effect of reducing Newton rings - a circular ´rainbow´ effect (actually, an interference pattern) which may be caused by non-uniform cell thickness - and other defects resulting in a flat surface in contact with a slightly curved one.

- Brightness is better than a standard screen (550 Cd/m2 instead of 350 Cd/m2 for a standard Beijer Electronics screen). The touch screen features anti-glare and reflexion surface treatments. Anti-reflective coated protection glass (chemically etched glass that has a slightly textured finish) minimizes mirror image and maximizes
transmittance. Anti-glare coated protection glass (microscopically rough surface) scatters light directed on the surface and softens the image of direct light sources visible in the reflection of the viewing area.

EXTER Sun-Readable displays are manufactured in a clean-room in order to eradicate dust problems. All these technologies combined together reduce the reflections by a good percentage.

"We also feature a 100% dimmable screen, so our customers can use it in any light conditions, 24 hours a day" explains Pelle Johnsson, Global Product & Marketing Coordinator for marine products. Normal screens change the color of the display when you decrease brightness. A 100% dimmable screen offers a real brightness decrease
without compromise to the quality. Beijer Electronics has developed an in-house inverter to do this. All LCD backlights powered by cold cathode fluorescent lamps (CCFL) require inverters. An inverter is an electronic circuit that transforms a DC voltage to an AC voltage, which drives the cold cathode fluorescent lamps (CCFL). Dimming capabilities are beneficial because lowering the backlight luminance will result in a lengthening of the backlight life. It also lowers the power consumption and the related thermal management issues.

"This solution is the best combination of technologies. We have developed it and evaluated it with our marine partners in order to offer the most optimal solution" concludes Johnsson.

About Beijer Electronics

Beijer Electronics HMI Products is a full-range, global supplier with 25 years of automation experience. Our HMI solutions connect people and processes, thus enabling actions, data collection and storage, and the management of information - on site or remotely. Please visit www.beijerelectronics.com for further details on our company and
products.

More from Software