HMC-C582 Power Amplifier offers gain flatness of ±1.5 dB.
Press Release Summary: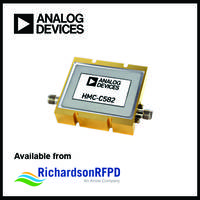 Housed in hermetic 1.75 x 1.62 x 0.525 in. module with replaceable SMA connectors, HMC-C582 GaAs MMIC pHEMT Power Amplifier is operated between 0.01 GHz and 20 GHz. Providing 24 dB of gain, up to 36 dBm output IP3 and 26 dBm output power at 1 dB gain compression, unit's inputs and outputs are matched to 50 Ω. Suitable for electronic warfare, electronic countermeasures, radar and fiber optic applications, amplifier runs on 15 V supply.
---
Original Press Release:
Richardson RFPD Introduces New 0.1–20 GHz RF Power Amplifier Module with Field-replaceable Connectors from ADI
Part of ADI's portfolio of high-performance standard modules that facilitate rapid prototyping and faster time-to-market
Richardson RFPD, Inc. announced today the availability and full design support capabilities for a new ultra-wideband power amplifier module from Analog Devices, Inc.
The HMC-C582 is a GaAs MMIC pHEMT power amplifier in a miniature, hermetic module with replaceable SMA connectors that operates between 0.01 GHz and 20 GHz. The device typically provides 24 dB of gain, up to +36 dBm output IP3, and up to +26 dBm of output power at 1 dB gain compression. Inputs/outputs (I/Os) are internally matched to 50 Ω and are DC blocked. Integrated voltage regulators allow flexible biasing and sequencing control for robust operation.
Excellent gain flatness across the operating frequency range makes the new amplifier module ideal for electronic warfare (EW), electronic countermeasures (ECM), radar, fiber optic, and test equipment applications.
According to ADI, additional key features of the HMC-C582 includes:
Single 15 V supply
Gain flatness: +/- 1.5 dB (@ 2-20 GHz)
Dimensions: 1.75" x 1.62" x 0.525"
Packaging: Hermetic ML-4-1
To find more information or to purchase this product today online, please visit the HMC-C582 webpage. The device is also available by calling 1-800-737-6937 (within North America); or please find your local sales engineer (worldwide) at Local Sales Support http://www.richardsonrfpd.com/content/english/contactus/Pages/SalesSupport.aspx. To learn about additional products from ADI, please visit the ADI storefront webpage http://www.richardsonrfpd.com/content/english/aboutus/Pages/Suppliers-Storefront.aspx?supplierId=1072.
About Richardson RFPD
Richardson RFPD, an Arrow Electronics company, is a global leader in the RF and wireless communications, power conversion and renewable energy markets. It brings relationships with many of the industry's top radio frequency and power component suppliers. Whether it's designing components or engineering complete solutions, Richardson RFPD's worldwide design centers and technical sales team provide comprehensive support for customers' go-to-market strategy, from prototype to production.
More information is available online at www.richardsonrfpd.com.
Contact:
Elizabeth Whelan
Marketing Specialist
Richardson RFPD
1950 S. Batavia Ave Suite 100
Geneva, IL 60134
P 630.262.6867
M 630.488.6184
Mark Vitellaro
Director of Strategic Marketing
P 630 262 6800