Briefcase / Laptop / Business Cases
HITEK's AlumiShield Laptop Case Excels in Drop Test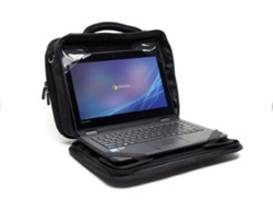 HITEK recently announced their newest Rugged Laptop Case model with a new feature they call AlumiShield. AlumiShield excelled in their recent drop testing.
CHICAGO, IL (PRWEB) JULY 19, 2018 - HITEK recently conducted drop testing on their newest model Rugged Laptop Case. What makes this case version unique is an aluminum shield that is sewn into the case itself; aptly named "AlumiShield". This was designed specifically to prevent broken screens while inside the case. When combined with rivet reinforced straps and overall durable 1680D ballistic nylon construction this bag is as rugged as they come.
According to data provided by Statistic Brain, 98% of schools have one or more computer per classroom. Over the last decade, technology has literally taken over the classroom. Tablets and laptops are being used in everything from day-to-day lessons to standardized testing. This constant use requires their cases to be more durable than ever!
To demonstrate the added durability of AlumiShield, they conducted some tests. One of these tests was for drop protection. They dropped a 4lb. Weight from 2ft. Above and recorded the results. Sunrise's Rugged Laptop Case with AlumiShield passed without a broken screen. The competitor bag tested, however, did not fare as well. The competitor glass was shattered. HITEK have posted a video of the test which can be viewed here.
HITEK's third generation Rugged Laptop Case has the same "always-in" design with proprietary Cooling Channel™ technology that allows the computer to be used without being removed from the case along with some exciting new features. The revolutionary AlumiShield plate in their G3 bag offers unprecedented protection and virtually eliminates broken screens from external impact. Also offers universal compatibility with Apple, Dell, HP, Lenovo, Acer, ASUS, Toshiba, Samsung, and all brands of laptop computers.
About HITEK 
Sunrise Hitek is a leading maker of protective gear for schools' 1:1 technology programs. HITEK has been designing tech accessories since 2013 and expanding ever since. Their primary customer are K-12 schools, leading them to recently develop the hitekcases website specifically for the educational sector. Sunrise Hitek Group, LLC, also operates Sunrise Hitek, a leading color printing company based in Chicago. As a G7 Qualified Master Printer, Sunrise is uniquely qualified among protective gear makers to offer a wide array of customization options, ensuring the most consistent and accurate color reproduction. Sunrise is an Inc. 5000 company established in 1988 and employs the most advanced equipment and technology, such as G7-certified HP Indigo and UV flatbed presses, and digital die-cutting, to create best-in-class products. A privately-owned enterprise, the company is based in Chicago and sells products worldwide.
Contact Information
Jimmy Sun
Sunrise Hitek Group LLC
http://www.sunrisehitek.com
+1 (773) 792-8880 Ext: 805
Patti Elliott
Sunrise Hitek Group LLC
http://www.sunrisehitek.com
More from Electrical Equipment & Systems