Hipot Testers are suited for production and lab testing.
Press Release Summary: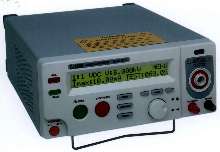 Bench-top safety testers H111 and H216 permit tests to UL, CSA, and IEC standards and can be used for ac and dc withstanding voltage tests up to 6 kV. Up to 10 tests/programs, each containing up to 16 steps, can be stored and initiated with pushbutton functionality, and remote operation is supported via PLC or RS-232 control. Model H216 also includes IR testing feature to 9,900 Megohms @ 500 and 1,000 Vdc and to 1,990 Megohms @ 50 and 100 V.
---
Original Press Release:
AEMC® Introduces Hipot Testers

The Hipot Tester Models H111 & H216 are bench top safety testers designed for production and lab testing. These instruments permit tests to UL, CSA and IEC standards. The testers can be used for AC and DC withstanding voltage tests up to 6kV on various types of electrical equipment and components. Up to 10 different tests/programs each containing up to 16 steps can be stored and initiated at the touch of a button. Remote operation is also supported by PLC or RS-232 control.

The Model H216 also includes an Insulation Resistance (IR) testing feature to 9900 Megohms @ 500 and 1000VDc and to 1990 Megohms @ 50 and 100V.

Price starting at: $1,495.00

Submitted by:

Laura C. Mahoney, Marketing Communications Manager

AEMC® Instruments

200 Foxborough Blvd.

Foxborough, MA 02035-2872

(508) 698-2115

(508) 698-2118 (fax)

lmahoney@aemc.com

Technical Contact:

John Olobri, Director of Sales & Marketing

techsupport@aemc.com
Related