Hipot Tester includes built-in 8-channel scanner.
Press Release Summary: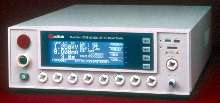 Guardian 1030S can perform AC Hipot tests from 50-5,000 V with leakage current detection from 1 µA to 30 mA, DC Hipot tests from 50-6,000 V with leakage current detection from 0.1 µA to 10 mA, and Insulation Resistance measurements from 100 Kohm to 50 Gohm with programmable test voltage from 50 to 1,000 Vdc. All functions can be programmed via front panel or remotely via RS-232. Tester includes LCD display, GFI circuits, and 500 internal memory locations.
---
Original Press Release:

QuadTech Announces the Guardian 1030S Hipot Tester with Built-In High Voltage Scanner


Efficient Dielectric Breakdown Testing Of Electronic Products With Multiple Connections

Maynard, MA - QuadTech, Inc., a leading electronic test equipment manufacturer in the electrical safety and passive component testing marketplace, announces the availability of a compact electrical safety tester with built-in high voltage scanning capability. The Model 1030S is the most recent addition to the popular family of Guardian Hipot Testers.

The Guardian 1030S offers a variety of features for electrical safety testing on a wide mix of products. All functions, including the internal 8 channel scanner, can be programmed via front panel or remotely via RS-232. With an increasing demand for dielectric testing of cables, power supplies, and other multiple connection products, the Model 1030S offers an economical alternative to more expensive systems and external scanners. It is the most comprehensive hipot tester available in its price range for production test applications.

Through its 8-channel scanner the Guardian 1030S Tester can perform:
o AC Hipot tests over a programmable voltage range from 50 to 5000V, with leakage current detection from 1 µA to 30mA
o DC Hipot tests over a programmable voltage range from 50 to 6000V, with leakage current detection from 0.1 µA to 10mA
o Insulation Resistance (IR) measurements over the range of 100kohm to 50Gohm with a programmable test voltage from 50 to 1000VDC.

Some of the outstanding features available on the 1030S include:
o Large LCD Display for Test Conditions & Measured Results
o Programmable High and Low Limits for Easy Pass/Fail Testing
o Interfaces - RS232 & Remote I/O Standard, Optional IEEE-488 or Printer
o Ground Fault Interruption (GFI) Circuits for Operator Protection
o Fast Discharge of Device and Rapid Shutdown on Fail
o Simultaneous Display of Total or Real Current for Detail Analysis
o 500 Internal Memory Locations for Storing Test Setups

The price for the Guardian 1030S is $4,495, which includes a NIST traceable calibration certificate and test leads for connecting to a variety of devices.

For more information on the Guardian 1030S instrument or any of its other products please call QuadTech at (800) 253-1230; fax: (978) 461-4295 or visit our website www.quadtech.com.

About QuadTech:
QuadTech, an ISO 9001 Certified manufacturer, offers a complete line of instrumentation, LCR meters for testing passive components, Hipot testers and ground bond testers, safety analyzers, megohmmeters and milliohmmeters, as well as calibration and repair services. Based in Maynard, MA, QuadTech has a worldwide network of direct sales and distributors who service and support customers around the globe. In the United States, all of Quad Tech's products carry a 45-day money back guarantee. In addition, QuadTech provides new product rental and lease plans.