High Voltage DAQ Module promotes safe and accurate measurement.
Press Release Summary: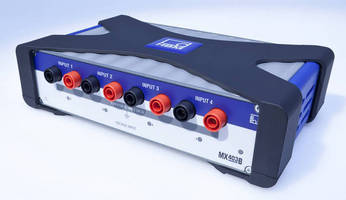 Capable of making 1,000 V measurements and acquiring data synchronously at all times to other physical quantities, MX403B amplifier offers 4 differential, isolated channels with analog anti-aliasing filters and 24-bit ADC. Users can also apply several digital filters to acquired data. Along with 10, 100, and 1,000 V measurement ranges, features include sampling rate of 100 kS/s per channel, signal bandwidth up to 38 kHz (78 kHz in dual-channel mode), and 0.05% accuracy.
---
Original Press Release:

HBM QuantumX MX403B Amplifier Makes High Voltage Measurements Accurately and Safely



The four-channel module makes measurements up to 1,000 V with a resolution of 24 bits



Marlborough, Massachusetts — HBM, Inc. (www.hbm.com), a leading manufacturer of data acquisition systems, analysis and calibration software, strain gauges, and transducers and sensors, has introduced a new high voltage data acquisition module, the MX403B. The MX403B is the only high-voltage measurement module on the market with the highest resolution capable of making 1,000 V measurements and capable of acquiring data synchronously at all times to other physical quantities.



The MX403B amplifier—the latest member of HBM's QuantumX family—offers four differential, isolated channels with analog anti-aliasing filters and a 24-bit AD converter. In addition, users can apply several digital filters to the acquired data.



The MX403B has three measurement ranges: 10V, 100V, and 1,000V. The sampling rate is 100 kS/s per channel (200 kS/s in dual-channel mode), and the signal bandwidth is up to 38 kHz (78 kHz in dual-channel mode). Accuracy is an industry-leading 0.05%.



"In addition to providing the highest accuracy measurement, the MX403B is versatile enough to perform high voltage, high power and highly accurate power factor measurement for AC-based sources and actuators, such as one or three-phase electric motors in many mechatronics applications," said Sujit Basu, PhD, HBM Business Development Manager, North America.



Where safety is a concern, the MX403B also leads the industry. It has a CAT II rating of 1,000 V and a CAT III rating of 600 V. In addition, the unit meets the requirements of IEC 61010, which specifies safety requirements for measurement and control equipment.



With a CMRR of 707 Vrms, the MX403B is perfect for testing mechatronics systems that include electrical motors and actuators and where measurements of both DC and AC voltages are required. Other applications for which the MX403B is a good fit include battery testing (up to 1250V) and voltage measurements where transients are of concern.



As part of the QuantumX series, the MX403B amplifier can be connected with all other QuantumX modules, acquiring all kinds of sensors and transducers synchronously. The MX403B connects to a host computer via its Ethernet port, and HBM's catman® Easy software makes it easy to set up channels and perform signal processing, such as power factor analysis for single- or multiple-phase devices.



Learn more: http://www.hbm.com/en/menu/products/measurement-electronics-software/compact-universal-data-acquisition-system/quantumx-mx403b/ or contact HBM:



HBM, Inc.

19 Bartlett Street

Marlborough, MA 01752

Tel: 800-578-4260

Fax: 508-485-7480

Sales Email: info@usa.hbm.com

Support Email: support@usa.hbm.com

Website: www.hbm.com



About HBM, Inc.

For more than 60 years, the name HBM stands for reliability, precision and innovation all over the world. HBM offers products and services for an extensive range of measurement applications in many industries. Users worldwide rely on the perfectly matched components of the measurement chain that guarantees maximum accuracy of measurement results and enables optimization of the complete product life cycle, from the development through the testing stages, as well as in manufacturing and production. Their product range covers sensors, transducers, gauges, amplifiers and data acquisition systems as well as software for structural durability investigations, tests and analysis. The potential fields of application can be found in every branch of engineering in both virtual and physical test and measurement.



HBM has 27 subsidiaries and sales offices in Europe, America and Asia. HBM also has representatives in another 40 countries around the world. In addition to headquarters in Darmstadt, Germany, other HBM production facilities are located in Marlboro, Massachusetts, and Suzhou, China.