High-Voltage Amplifier suits piezo drives and instrumentation.
Press Release Summary: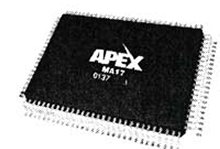 MA17 monolithic op amp, with high-voltage operation of 240 V, provides 17 channels of precision voltage, for driving capacitive loads. Housed in 100-pin Quad Flat Pack (QFP), it has quiescent current under 100 microA per channel, and foot print measuring less than 1.86 sq in. Applications include systems with multiple high-voltage drive channels, such as 3D MEMS mirror arrays, industrial ink jet printers, automatic test equipment, and adaptive optics.
---
Original Press Release:

Apex Introduces The MA17 - A 17 Channel, High Voltage Amplifier For Piezo Drives And Instrumentation


TUCSON, AZ -- Apex Microtechnology introduces the MA17, a 17-channel precision, high voltage op amp for driving capacitive loads. The recognized industry leader in high voltage and high current power amplifiers for applications in industrial controls, ATE, aerospace, medical, and military markets, Apex has extended that expertise to fulfil growing requirements for multiple channel high voltage applications.

The new Apex MA17 is an industry first, precision 17-channel, high voltage monolithic IC that is housed in a 100-pin Quad Flat Pack (QFP). With quiescent current under 100uA per channel and a foot print measuring less than 1.86 square inches, the MA17 drastically reduces the power and board space requirements in systems utilizing multiple high voltage drive channels such as 3D MEMS mirror arrays, industrial ink jet printers, automatic test equipment, and adaptive optics.

The MA17 has the unique feature of each channel possessing it's own internal biasing to minimize cross talk between channels. Gain is user selectable providing flexibility for the system designer. The MA17 features a high voltage operation of 240V, and each channel's output voltage can swing up to ± 100V with a dual supply and up to 200V with a single supply. Each channel is capable to source/sink up to 1.2mA.

Key Specifications for the MA17:
Model MA17
Quiescent Current Per Channel (HV) 100microA MAX
Voltage Supply 240V MAX
Output Voltage 200V MAX
Package QFP
10K Price $52.70 USD
NOTE: sample units for evaluation available, production order lead times quoted ARO.

For more product information or applications assistance regarding the Apex MA17, please visit our Web Site at apexmicrotech.com, by phone call the Apex Product Literature Helpline at 800-546-APEX, or contact us via e-mail at prodlit@apexmicrotech.com. Headquartered in Tucson, Arizona, Apex Microtechnology Corporation is an industry leader in high power analog monolithic and hybrid ICs, motion controllers, and multi-channel amplifiers.

Apex Microtechnology Corp. - 5980 N. Shannon Rd. - Tucson, AZ 85741 - USA - Phone (520) 690-8600 Fax (520) 888-3329 - Web Site: apexmicrotech.com


More from Packaging Products & Equipment