High-Temperature Lubricant uses organic and inorganic content.
Press Release Summary: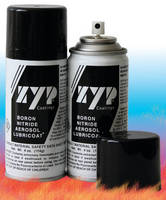 Able to be used in temperatures from ambient to 1,000°C, Keralon-B is brushable lubricant/coating/paint based on organic Methylated Seed Oil and inorganic ceramic mixture of chemically-inert lubricating phases: Boron Nitride, Graphite, and Titanium Dioxide. It performs as oily mixture at room temperature and acts as dry film lubricant above 200°C. Solution is nonreactive/nonwetting with molten metals, glasses, and slags and prevents oxidation/rusting/galling/reactions while lubricating.
---
Original Press Release:

NEW Keralon-B High-Temperature Lubricant



ZYP Coatings, Inc. announces its new "Brushable" biodegradable-oil-based lubricant/coating/paint

Keralon-B

for use from ambient to 1000 C. Its lubrication is based on dual types of components ... both organic and inorganic ingredients: the organic being a high-flashpoint Methylated Seed Oil (called MSO) and the inorganic being a ceramic mixture of chemically-inert lubricating phases -- Boron Nitride (BN), Graphite, and Titanium Dioxide.

In lab testing, this lubricant is good as an oily mixture at room temperature; can be heated to 200 C for 8-10 hours to create a "dry-film-lubricant"; and really seems to excel at 500 C to 1000 C, where other lubricants fail. Thus, Keralon-B is a unique oil-based coating that allows its application to hot or cold surfaces needing lubrication or an inert film to protect a substrate from reactive materials.

Keralon-B can be thinned with Keralon Thinner or Canola Oil to achieve any desired viscosity, such as making a "Sprayable" coating. This new lubricant can be considered for any high-temperature-exposed parts or components, including belts, conveyers, chains, rollers, hinges/bolts/screws. Also, since the ceramic ingredients are high thermal conduction materials, Keralon-B can be used for sealing gaps with heater-cartridges.

Attributes include:

Superior lubrication/anti-stick from ambient to 1000 C in air/vacuum/inert conditions

Dry-Film-Lubricant above 200 C

Nonreactive/nonwetting with molten metals, glasses, and slags

Prevents oxidation/rusting/galling/reactions while lubricating

Biodegradable carrier oil with low VOC (volatile organic compound) level

The specialty uses of this new lubricant mixture are almost unlimited ... for researchers, engineers, scientists, designers, chemists, maintenance personnel in many fields.

Visit www.zypcoatings.com/Datasheets/Keralon-B/Keralon-B.htm for more information or contact:
C. Holcombe, MarketingMgr./DevelopmentEngr., ZYP Coatings, Inc.
info@zypcoatings.com
865-482-5717

More from Architectural & Civil Engineering Products