High Temperature Alert protects against harmful fluctuations.
Press Release Summary: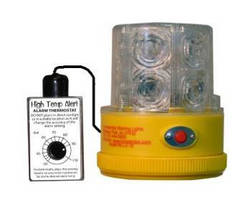 Comprising adjustable 32 to 110°F thermostat head on 15 ft cord attached to battery-powered strobe light and buzzer, High Temperature Alert Device emits audible alarm and flashing signal when sensing head is subjected to pre-selected temperature. Portable unit, independently powered by 2 D cells, can produce 200+ hr of continuous flashing. Available in red, amber, blue, green, and clear, LED head will flash at 60 triple flashes per minute and can be seen over ½ mile away.
---
Original Press Release:

High Temperature Alert



Lumastrobe Warning Lights has added High Temperature Alert Device to their line of high performance, portable signaling products.  The High Temperature Alert emits both an audible alarm and high output flashing signal when its sensing head is subject to the pre-selected temperature.  The devise consists of an adjustable 32 degrees to 110 degrees F. thermostat head on a 15 ft. cord attached to a battery powered strobe light and buzzer.  The unit is independently powered by 2 D Cells, is lightweight, portable and will produce over 200 hours of continuous flashing when the pre-set alarm temperature is reached.



Ideally suited for those situations where the central air conditioning units (HVAC) or refrigeration systems have failed.  AC failures can result in mildew and mold in closed/unoccupied dwellings.  Likewise, refrigeration malfunctions can be quite costly in the loss of foodstuff.  The High Temperature Alert is most effective in situations where people, pets or plants can be subjected to dangerous and harmful temperature fluctuations.  The LED flash head will flash at 60 FPM Triple Flashes per minute and can easily be seen over ½ mile away.  Flash head should be located where it can immediately be seen and acted upon.  Unit is available in Red, Amber, Blue, Green and Clear colors.



For additional information, visit Lumastrobe's Website at www.lumastrobe.com for their full product line, or, contact their Sales Department with live customer service weekdays from 9am to 5pm EST.



Lumastrobe Warning Lights

33 Greenwood Avenue

Midland Park, New Jersey 07432

Tel:   (201) 444-7041

Fax:   (201) 445-8575

E-Mail: info@lumastrobe.com

More from Electrical Equipment & Systems