High-temp Casters and Wheels are abrasion and wear resistant.
Press Release Summary: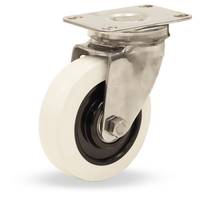 Built to withstand rigors of extreme temperatures, casters and wheels are water, acids and chemicals resistant. Unit is temperature rated between 475 and 570 degrees Fahrenheit. Moving 2,000-pound load without damaging floors in 570 degree temperatures, unit comes with stainless steel precision ball bearing which is rated up to 750 degrees Fahrenheit. Reinforced with injection molded 33% Glass Fiber, device comes with 4 in. wheel size.
---
Original Press Release:
Turn up the Heat: new High-Temp Casters and Wheels Won't Sweat It
Call them hot wheels for work. Call them casters that won't cook. Whatever you call them, one thing is for sure: these babies stay cool under pressure.
Hamilton is proud to introduce our new line of high-heat casters and wheels. Built tough to withstand the rigors of extreme temps, they're ideal for rolling anywhere you want to beat the heats especially in autoclaves, product finish systems, food manufacturing and pharmaceutical industries, where heat treating and coating is increasingly becoming the norm.
We're pretty excited about this series. Not everyone realizes that most conventional casters aren't built to withstand very high heat, explained Hamilton Vice President of Marketing Mark Lippert. In the past, we've offered high-temperature wheels and casters to our customers on demand. As high-heat becomes more and more part of everyday manufacturing, we now have an extensive line to make it even easier to get what you need.
To help you understand each offering's singularly scorching charms, here are some highlights:
Stainless Steel Caster featuring New Ultrathermal Wheel #S-HSTL-4HWRB
High Heat Non-Metallic Wheels
Our High Heat Non-Metallic Wheels offer a range of high-heat options to light your fire, from the everyday generalist Thermolasts to the uber premium Ultrathermal. These wheels come in a variety of diameters and are temperature rated between 475 and 570 degrees Fahrenheit.
Thermoplasts Wheels
The affordable generalist
Temp ratings up to 475 degrees F
Rated up to 1,400 pounds
Injection molded 33% Glass Fiber Reinforced, Heat Stabilized Nylon 6/6
Double the strength & stiffness of unreinforced nylons (27,000 psi)
Superior abrasion and wear resistance
Great for autoclaves
Duratherm Wheels
The premium version of Thermolasts, with a higher-end precision ball bearing
Certified especially for the food industry
Resistant to water, acids, chemicals and most solvents
Temperature rating up to 530 degrees F
Noiseless Ultrathermal Wheels
The crime de la crime of high-heat wheels
Roll silently, so they're easy on the ears
Made of high-heat elastic rubber, so they protect floors beautifully
Temperature rating up to 570 degrees F
Features maintenance-free precision ball bearings
Wheel size: 4 in. Note: We also offer an Inferno series (see below) high heal dual wheel casters with Noiseless Ultrathermal wheels to offer you double capacity. So you can safely move a 2,000-pound load without damaging your floors in 570 degree temperatures.
Inferno Wheels
Direct from Hades, our Inferno Series wheels come with special high-heat stainless steel precision ball bearings rated up to 750 degrees Fahrenheit.
Inferno metallic wheels: coated with special high-heat silver spray enamel paint
Inferno forged steel wheels: shipped in their original pristine silver finish
Inferno stainless steel wheels: for when you absolutely want the very best in high-heat performance
Inferno and MagmaMax Casters
Stainless Workhorse featuring New Thermolasts Wheel #S-WHS-6HNY
Is it just us or is it getting warm in here
In the high-heat caster arena, it's a veritable heat wave of choices that cater to every capacity from a mere 150 pounds all the way up to a whopping 9,000 pounds of crushing force. Our Inferno casters come in light-, medium-, and heavy-duty, while we've saved the heaviest payload for a category all its own: our MagmaMax extra heavy-duty casters.
Hamilton Caster
1637 Dixie Highway
Hamilton
OH
45011-4041
1860
phone: 513-863-3300
url: http://www.hamiltoncaster.com/
Nico Capetola
More from Fluid & Gas Flow Equipment