High-Speed Turning Center/Lathe has multiple expansion options.
Press Release Summary: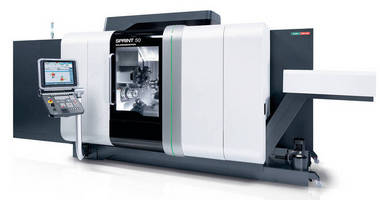 SPRINT 50 offers modular options that allow machine to be supplied in various formats, from twin-turret configurations (with or without Y-axes) to triple-turret lathe with Y-axes and 2.5°  to +182.5° B-axis on lower turret. Also available, optional tailstock/counter spindle combination offers cross as well as longitudinal traverse. Machine is suited for complete, 6-sided machining of workpieces up to 51 mm dia using speeds of up to 7,000 rpm on main and counter spindles.
---
Original Press Release:

New DMG / MORI SEIKI Lathe Has Numerous Options



The new SPRINT 50 high speed turning centre from DMG / MORI SEIKI has a wealth of modular expansion options, allowing the machine to be supplied in various formats from twin-turret configurations, with or without Y-axes, to a triple-turret lathe with Y-axes and a -2.5  to +182.5  degree B-axis on the lower turret. A notable extra feature is the patented, optional tailstock / counter spindle combination with cross as well as longitudinal traverse.



Superseding the manufacturer's former SPRINT and TWIN lathes, the new machine generation is intended for a range of production needs from small batch turning from billet to high volume automatic turning from bar. Each machine ordered is tailored to meet the individual requirements of the customer.



The SPRINT 50 is ideal for complete, six-sided machining of workpieces up to 51 mm in diameter using speeds of up to 7,000 rpm on both the main and counter spindles. The likelihood is that the twin-turret version will be employed for both chuck and bar work whereas the triple-turret model will be used primarily for bar turning and the production of particularly complex parts.



Compact design is claimed for the new SPRINT 50, backed up by the statement that it has a 37 per cent smaller footprint than its predecessor, in part thanks to the lathe's vertical bed with three-point support.



The 12-station VDI 25 turrets can accept driven tools at each position and rotate at up to 8,000 rpm. Even in the standard version, the turrets are equipped with the TRIFIX quick tool change interface, avoiding time-consuming adjustments inside the machine and leading to a 35  per cent reduction in set up times. Repeatability is to within microns. All turrets are easily accessible by the operator, further speeding set-ups.



A Siemens ShopTurn 3 G-control provides clear tool management and up to 60  per cent shorter job preparation times due to innovative multi-channel programming, multi-channel 3D simulation and the flexibility offered by the unlimited combination of ShopTurn cycles and DIN functions. The control therefore offers particular flexibility for small and medium sized batches.



On behalf of: DMG / MORI SEIKI (UK) Ltd, 4030 Siskin Parkway East, Coventry, CV3 4PE.

Tel: 0247 651 6120.  Fax: 0247 651 6136.

E-mail: kirsty.wilkins@dmgmoriseiki.com

Web site: www.dmgmoriseiki.com

Contact:  Richard Watkins, Sales Director.



Issued by:    THE RIGHT IMAGE Ltd

PO Box 42, Twickenham, TW1 1BQ

Tel: 020 8891 0603

Contact: Chris Wright

E-mail: chris@therightimage.net

Web site: www.therightimage.net

More from Electronic Components & Devices