High-Speed Transmission is offered with selectable gearbox.
Press Release Summary: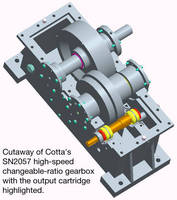 Available as speed increaser and decreaser, SN2057 high-speed transmission is offered with selectable speed output capability for test-stand applications. When test-speed requirements change, output cartridge can be removed and replaced by one more appropriate without requiring any re-fitting, takedown, or new equipment. Gearbox has 350 hp nominal capacity, 50,000 rpm max output speed, 6,000 rpm max input speed, and standard ratios of 8.50 and 11.96 (custom ratios available).
---
Original Press Release:
Cotta's Selectable Gearbox Adds Test-Stand Flexibility
(BELOIT, WI) Cotta Transmission Co., manufacturer of standard, modified-standard and custom industrial and specialty gearboxes, has introduced selectable speed output capability for the companys popular SN2057 high-speed transmission for test-stand applications. Cotta cites a customer who saved six figures in capital costs, while avoiding time delays in refitting a test cell, by applying Cotta's SN2057 selectable gearbox. When the customer's test-speed requirement changed (for example, from 24,000-rpm to 35,000-rpm), the gearbox's lower-speed output cartridge could be removed and replaced by a higher-speed cartridge. No further re-fitting, takedown or new equipment was needed. This Cotta customer did not have to move or store anything, except the dormant cartridge, thereby saving the cost of a new gearbox, preserving lead-time, saving on installation labor, plumbing, alignment, run-in and other costs. This cost-effective and timesaving solution was also the recent choice of one of the world's most respected bearing manufacturers for development of high-speed bearings for jet engines. The Cotta SN2057 was developed in 1988. In 2002, a changeable-ratio version was introduced for use by manufacturers, military and others. The gearbox features a nominal capacity of 350HP, 50,000 rpm maximum output speed, 6,000 rpm maximum input speed, and standard ratios of 8.50 and 11.96 (custom ratios available). All SN2057s remain in service to this day. Available as both speed increasers and decreasers, Cotta high-speed transmissions and gearboxes are also used in non-aviation applications, ranging from power generation to centrifugal driers. In addition to high-speed test-stand drives, Cotta manufactures (standard, modified-standard, custom) industrial and specialty gearboxes including speed increasers/reducers, transfer cases, split-shaft power takeoffs, and pump, reversing, creep and right-angle drives. For more information on Cotta's full line of industrial and specialty transmissions, visit www.cotta.com or contact Cotta Transmission Company, LLC 1301 Prince Hall Drive, Beloit WI 53511-4439 Phone 608-368-5600; Fax 608-368-5605; www.cotta.com
More from Electrical Equipment & Systems