High-Speed Spindle suits micromachining applications.
Press Release Summary: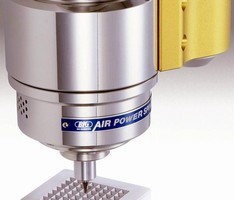 Used as additional spindle on existing machining centers, Air Power Spindle promotes surface finish quality and tool life while reducing wear on high-speed spindles. Air-driven tool offers spindle speeds of 80,000 rpm max and minimizes thermal displacement in Z-axis (less than .001 mm). Offered in CAT40, BT40, and HSK-A63 spindle types, product delivers dynamic run-out accuracy of less than .002 mm, produces minimal vibration, and has low noise design (under 65 dB).
---
Original Press Release:

BIG Daishowa Seiki Introduces New Tooling Solutions in Micro-Machining at IMTS Booth E-2005



Elk Grove Village, IL - BIG Daishowa Seiki and BIG Kaiser Precision Tooling Inc. will introduce Air Power Spindle into the market at IMTS 2006. Air Power Spindle provides solutions to the endless challenges of micro machining with ultra high speed and precision.

Air Power Spindle offers maximum spindle speeds of 80,000 RPM. Air Power Spindle is an air-driven tool that can be used on existing machining centers to provide dramatic enhancements to surface finish quality, extended tool life, and reduced wear on high speed spindles. Used as an additional spindle on a normal machining center, Air Power Spindle eliminates the need for an expensive, high-speed machine.

The new product minimizes thermal displacement in the Z-axis for top precision. When compared with a standard machining center spindle with up to .012mm of displacement, Air Power Spindle remains constant at less than .001mm.

Combined with the high-accuracy Mega Micro collet chuck series, Air Power Spindle delivers exceptional dynamic run-out accuracy of less than .002mm, even at 80,000 RPM! The spindle produces very low vibration by perfect dynamic balance and low noise design (less than 65 dB). Air Power Spindle is available in many spindle types, including CAT40, BT40 and HSK-A63, to best fit your needs.

Also new at IMTS 2006 is the Fullcut Mill FCR. The new FCR's geometry expands capabilities in multi-functional milling, achieving supreme milling performance for ramping, helical milling, shoulder milling and peck-drilling operations.

Extremely sharp cutting edges with both high radial and axial rake angles achieve smooth and quiet endmilling in all materials. The sharp cutting edges of the unique indexable insert retains high strength and toughness due to the optimized eccentric relief angle for each cutter diameter.

Fullcut Mill FCR is available for diameters 5/8", 3/4", 1", and 1 ¼" in various length configurations with BIG PLUS integral shanks CAT40, BT30, and BT40 as well as HSK-A50 and A63 versions. Tests conducted by BIG concluded that the new cutter has 5x greater DOC capability over 3 other competitor tools.

Other new products for IMTS include:
· Point Master series with LED display, which can be easily mounted to the spindle of any machining center and used for the precise measurements of edges, holes, etc. Point Master is accurate to within ±1 micron (.00004"), and measures in X, Y, and Z axis.
· Accu Center detects edges to within 3 microns (.00012").
· Base Master Gold comes with an integrated contact switch and LED to precisely measure cutting edge offsets on machining centers or lathes.
· Base Master Micro can also measure cutting edge offsets but this unit has a fine sensitivity to measure micro tools as small as 0.05mm (.002") diameter without influence to accuracy.
· Kombi-Grip is a new tool holding fixture developed for tools that do not include drive keys. The unique two-way clutch does not allow tools to rotate once they are seated into the fixture. Holding tool holders such as HSK-25, 32, 40, 50, or 63 with any form is easily done. Additional tool holders that can be clamped include Capto or KM modular systems.
· For cleaning your Capto spindles or quick-change adapters, BIG introduces the exclusive and economical cleaner for all sizes C5, C6, and C8.
· The new Alpha Clean system makes cleaning of heat shrink bores fast and easy. Available for standard inch or metric sizes ranging from 6mm (1/4") to 12mm (1/2").

Visit BIG Daishowa Seiki and BIG Kaiser Precision Tooling at IMTS Booth E-2005.

More from Laboratory and Research Supplies and Equipment