High-Speed Motors range from 3.5 to 75 kW.
Press Release Summary: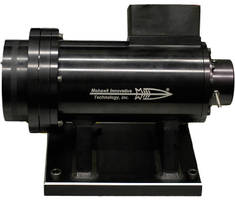 Available in 5 models with rated speeds from 60,000-120,000 rpm, Variable Speed Synchronous and Asynchronous Motors feature maintenance-free operation by using foil gas bearings and either permanent magnet or induction motor elements. Korolon(TM) lubricious and wear-resistant bearing coating maximizes life for both intermittent start/stop and continuous operation. Applications include pumps, blowers, aerospace and aircraft equipment, and compressors.
---
Original Press Release:

Energy Saving High-Speed and Power Motors



Mohawk Innovative Technology, Inc. (MiTi®), Albany, New York

A series of variable speed, high power, synchronous and asynchronous motors using a compliant foil gas bearing rotor support system has been developed by MiTi. Power levels for the five standard models range from 3.5 to 75 kW at rated speeds from 60,000 to 120,000 rpm. Efficient, maintenance free operation is made possible through the combination of MiTi®'s 4th generation compliant foil gas bearings and either high efficiency permanent magnet or induction motor elements. By using gas foil bearings the need for an oil lubrication system and the associated maintenance and oil disposal are all eliminated. MiTi®'s Korolon(TM) lubricious and wear resistant bearing coating assures low starting torque and long life for both intermittent start/stop and continuous operation. Custom motor designs are also available for specific performance or size requirements ranging from sub kilowatt to several hundred kilowatts. Applications include pumps, blowers, aerospace and aircraft equipment, compressors, and applications that require high quality, high performance rotating machinery equipment.

Contact: James F. Walton II

Mohawk Innovative Technology, Inc.

1037 Watervliet-Shaker Rd

Albany, NY

[email protected]

www.miti.cc