High-Speed Medical Drills are fully customizable.
Press Release Summary: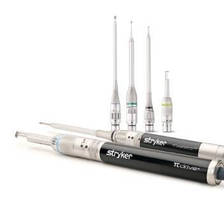 Addressing surgeons' power, function, and ergonomic needs, Signature Portfolio includes electric and pneumatic motors as well as 90+ attachments and cutting accessories. Tactile feel, response, and performance of PiDrive electric drills can also be customized using Stryker ID Touch software on CORE Console power unit, which saves unlimited user profiles to let surgeons retrieve unique style setting for consistent drill feel and performance.
---
Original Press Release:

Stryker's Complete Signature Portfolio Drill Line Now Available and on Display at AANS Conference



Surgeon choice, customization and flexibility featured in Stryker's most comprehensive high speed drill launch



KALAMAZOO, Mich. -- Stryker's Instruments group announces full availability of its most comprehensive and customizable high speed drill line, the Signature Portfolio. The lineup of Signature Portfolio components will be on display at the American Association of Neurological Surgeons (AANS) in Chicago April 30 - May 4, 2016.



Stryker re-engineered and restyled its Signature Portfolio components in collaboration with surgeons to fulfill their criteria for power, function and ergonomics. The Signature Portfolio of high speed drills includes electric motors, pneumatic motors and over 90 attachments and cutting accessories, which contribute to optimal surgeon customization.



"The Signature Portfolio gives surgeons unsurpassed choice, customization and flexibility so the drill becomes an extension of their own signature style," said Lisa Kloes, Senior Director of Marketing and Medical Education, Stryker Neuro, Spine, ENT and Navigation.



In addition to the Signature Portfolio's 100 mix-and-match components, surgeons can further customize the tactile feel, response and performance of PiDrive electric drills through Stryker I.D. Touch software on the CORE Console power unit. The console saves unlimited user profiles so surgeons can quickly retrieve their personal style setting, providing the confidence that comes from having a consistent drill feel and performance.



"A surgeon's 'touch' is one of their greatest assets, and our I.D. Touch software maximizes this by allowing surgeons to adjust torque from 0-100 percent to customize how the electric drill feels and responds when pressure is applied, from low to high motor sensitivity," explains Jim Marucci, VP and General Manager of Stryker Neuro, Spine, ENT and Navigation. "Redefining drill performance to their liking, in as many ways as possible, is what the Signature Portfolio is all about."



In addition to torque/motor sensitivity, other customizable features of the Signature Portfolio include speed, acceleration and breaking rates, irrigation flow, hand switches, foot pedals and new multi-notch telescoping cutting accessories. Telescoping capability optimizes cost and inventory management by providing up to five choices (up to 10mm) in reach and shaft exposure in just one cutting tool. Stryker's Elite Series cutting accessories are also compatible with Signature Portfolio components, providing an additional 200 telescoping instruments for use and customization. 



To see the complete Signature Portfolio, visit AANS booth 3611 for a hands-on demonstration at Stryker's in-booth cutting station. Additional Signature Portfolio information is available by emailing signature@stryker.com.



About Stryker

Stryker is one of the world's leading medical technology companies and, together with our customers, we are driven to make healthcare better. The company offers a diverse array of innovative products and services in Orthopaedics, Medical and Surgical, and Neurotechnology and Spine that help improve patient and hospital outcomes. Stryker is active in more than 100 countries around the world. Please contact us for more information at www.stryker.com.



MEDIA CONTACTS:

Jennifer Lentner

Stryker Instruments

269 389 3481

jennifer.lentner@stryker.com



Jenny Braga

Stryker Corporation

269 389 6493

jenny.braga@stryker.com

More from Machinery & Machining Tools