High-Speed FET Driver offers high-frequency performance.
Press Release Summary: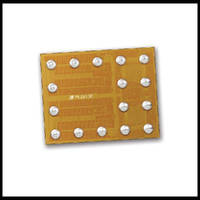 Designed to control gates of external power devices, PE29100 UltraCMOS® FET Driver delivers outputs capable of switching transition speeds in sub-nanosecond range for hard switching applications up to 33 MHz. Device is based on silicon-on-insulator technology on sapphire substrate, offering performance of GaAs with integration of conventional CMOS. Supplied in flip chip package, driver provides dead-time control, 8 ns propagation delay, and 2 A/4 A peak source/sink current.
---
Original Press Release:
Richardson RFPD Introduces New 33 MHz UltraCMOS® High-speed FET Driver from Peregrine
Breakthrough high-frequency performance enables next generation applications

Geneva, Ill.: Richardson RFPD, Inc. announced today the availability and full design support capabilities for a new UltraCMOS® FET driver from Peregrine Semiconductor Corporation.

The PE29100 integrated high-speed driver is designed to control the gates of external power devices, such as GaN Systems' E-HEMT (enhancement-mode high electron mobility transistor) gallium nitride FETs. The outputs of the PE29100 are capable of providing switching transition speeds in the sub-nanosecond range for hard switching applications up to 33 MHz. High switching speeds result in smaller peripheral components and enable new applications like the Rezence wireless power transfer standard from A4WP (now part of the AirFuel Alliance).

The PE29100 is manufactured on Peregrine's UltraCMOS process, a patented variation of silicon-on-insulator (SOI) technology on a sapphire substrate, offering the performance of GaAs with the economy and integration of conventional CMOS.

According to Peregrine, additional key features of the PE29100 include:
• High- and low-side FET drivers
• Dead-time control
• Fast propagation delay, 8 ns
• Tri-state enable mode
• Sub-nanosecond rise and fall time
• 2A/4A peak source/sink current
• Flip chip package

To find more information, or to purchase this product today online, please visit the PE29100 webpage. The device is also available by calling 1-800-737-6937 (within North America); or please find a local sales engineer (worldwide) at Local Sales Support. To learn about additional products from Peregrine, please visit the Peregrine storefront webpage.

FOR DETAILS CONTACT
Dave Rossdeutcher
Global Product Management Director – Energy & Power
drossdeutcher@richardsonrfpd.com
P 630 262 6800

About Richardson RFPD
Richardson RFPD, an Arrow Electronics company, is a global leader in the RF and wireless communications, power conversion and renewable energy markets. It brings relationships with many of the industry's top radio frequency and power component suppliers. Whether it's designing components or engineering complete solutions, Richardson RFPD's worldwide design centers and technical sales team provide comprehensive support for customers' go-to-market strategy, from prototype to production. More information is available online at www.richardsonrfpd.com.

Follow Richardson RFPD on Twitter at www.twitter.com/Richardson_RFPD.  To subscribe to Richardson RFPD's New Products e-newsletter, visit www.richardsonrfpd.com/subscribe.
 
Related