High-Speed Diverter handles products up to 132 lb.
Press Release Summary: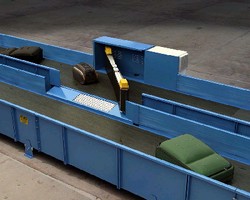 Featuring heavy steel design, SIBAG HSD II comes equipped with variable frequency drive for vertical paddle belts and servo motor for paddle positioning. Unit includes 2-link positioning mechanism, roller transition plate, full mechanism guarding, area safety guard, and integral bed section with belt return roller. Measuring 72 in. long x 12 in. deep, sortation device is rated for up to 80 bags/min at 380 fpm, making it suitable for parcel/package applications.
---
Original Press Release:
Siemens Introduces The New SIBAG HSD II For Global Applications
- Next Generation Diverter for Faster, More Reliable Material Handling - ATLANTA, April 22, 2008 - Siemens Energy & Automation, Inc. today announced the introduction of the all new High Speed Diverter (HSD) II. The SIBAG HSD II is a global model that combines the best features of previous Siemens' diverter models to increase performance and reliability while reducing maintenance requirements. With a variable frequency drive for the vertical paddle belts and a powerful servo motor for paddle positioning, the HSD II is able to achieve higher throughput at lower conveyor speeds. The integrated variable frequency drive provides simple speed adjustments, which improves control over product orientation. The servo paddle positioning drive enables easy handling of 132 pound (60 kg) products at high speeds. The SIBAG HSD II features a simple two link positioning mechanism. The links are configured to eliminate the need for maintenance under the unit, which reduces the overall installation height. Building on the success of previous Siemens' diverter models, the SIBAG HSD II includes the following standard design features: o Robust, heavy steel design. o Same 72" [1829mm] length. Same 12" [305mm] depth. o Rated for up to 80 bags per minute at 380 ft/min [1.93 m/s]. o Roller transition plate, full mechanism guarding, and area safety guard included. o Integral bed section with belt return roller. The new SIBAG HSD II has been designed as the only sortation device required throughout any bag or parcel system, new or existing. It is ideally suited as a pusher replacement device or as a direct bolt-in replacement for older model HSD's. In parcel / package applications in sort and distribution facilities it offers an inexpensive introduction of automated sortation with minimal changes to existing conveyor layouts. For more information on the new SIBAG HSD II from Siemens, log onto: www.siemens.com/airports or send an e-mail to infrastructure-logistics.sea@siemens.com. About Siemens: Siemens Energy & Automation, Inc. is one of Siemens' operating companies in the U.S. Headquartered in the Atlanta suburb of Alpharetta, Ga., Siemens Energy & Automation, Inc. manufactures and markets one of the world's broadest ranges of electrical and electronic products, systems and services to industrial and construction market customers. Its technologies range from circuit protection and energy management systems to process control, industrial software and totally integrated automation solutions. The company also has expertise in systems integration, technical services and turnkey industrial systems. For more information: www.sea.siemens.com. Siemens AG (NYSE: SI) is a global powerhouse in electronics and electrical engineering, and operates in the industry, energy and healthcare sectors. For more than 160 years, Siemens has built a reputation for leading-edge innovation and the quality of its products, services and solutions. With nearly 400,000 employees in 190 countries, Siemens reported worldwide sales of $96.6 billion in fiscal 2007. With its U.S. corporate headquarters in New York City, Siemens in the USA reported sales of $19.8 billion and employs approximately 70,000 people throughout all 50 states and Puerto Rico. For more information on Siemens in the United States, visit www.usa.siemens.com. CONTACT: Kate Eby (404) 394-8711 kate.eby@siemens.com
More from Fasteners & Hardware