High-Speed Case Erector uses soy-based, cool adhesive.
Press Release Summary: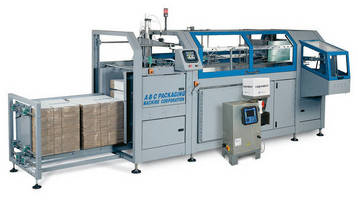 Model 450 Case Erector features ergonomic, low-level easy load KD magazine, walking beam mechanical case transfer, and servo-operated sealing ram. Erector uses Liquamelt soy-based adhesive from H.B. Fuller, which is pumped at room temperature from reservoir to actuator positioned at nozzle that heats adhesive to sealing temperature. Liquamelt is applied as foam, minimizing consumption. Erector achieves speeds to 50 cases/min and is operated by intelligent control.
---
Original Press Release:

A-B-C Packaging debuts high speed case erector running soy-based cool adhesive



Tarpon Springs, FL- A-B-C introduced a high speed case erector sealing with a new soy-based adhesive that offers a sustainable alternative to traditional petroleum-based hot melt. Designed for speeds to 50 cases per minute and offering reliable mechanical operation and a servo-operated sealing ram, A-B-C's Model 450 case erector helps packagers increase productivity while the new Liquamelt adhesive system from H.B. Fuller will reduce their sealing costs. Liquamelt is liquid at ambient temperatures, eliminating the need for heated premelt tanks and heated hoses, which can reduce packagers' energy costs by more than 50 per cent. The adhesive is pumped at room temperature from the reservoir to a TurboActivator positioned just prior to application that heats the adhesive to the required sealing temperature. Liquamelt is applied as foam which can result in a reduction of adhesive consumption by more than 50 per cent compared to other application systems.

"We are pleased to be partnering with H.B. Fuller in debuting the first machine application of this innovative technology at Pack Expo Las Vegas 2011" said Bryan Sinicrope, vice president, sales and marketing, A-B-C Packaging Machine Corporation. "We're able to show packagers how A-B-C is working to assist them in reaching sustainability goals while enhancing their productivity and reducing costs."

From the ergonomic low level, easy load KD magazine, to the simple walking beam mechanical case transfer, to the servo-operated sealing ram, the Model 450 case erector is designed to reduce packaging costs by ensuring top performance at speeds to 50 cases per minute. It's operated by A-B-C's Intelligent Control that puts all production data at the user's fingertips on the production line at the touchscreen panel or remotely at the plant operation center.

The Liquamelt adhesive is "cool on delivery, hot on demand" that offers the added advantages of safety and easy cleanup. H.B. Fuller partnered with Graco to develop the delivery system including pump, reservoir, delivery hose and TurboActivator.

For complete details, contact A-B-C Packaging Machine Corporation, 811 Live Oak Street, Tarpon Springs, FL 34689, PH 800-237-5975, Fax 727-938-1239, or visit www.abcpackaging.com