High Speed and Outstanding Quality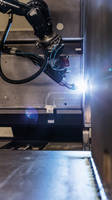 Cost-effective, reliable, consistently precise and, above all, fast – the requirements placed on automated welding processes in the automotive industry, shipbuilding and pipeline construction continue to rise: it must be possible to join thick sheets as well as thin sheets in series production with increasing speed and quality. This is where LaserHybrid welding, for example, can bring greater profitability. This welding process combines laser and gas metal arc welding in a single process, making optimal use of the synergies. Users primarily benefit from a highly stable welding process, less preliminary work and rework along with high speeds and quality. Fronius is now also offering the LaserHybrid welding process together with the intelligent TPS/i power source to provide an additional increase in performance.
LaserHybrid welding is a combination of two different welding processes: laser welding and gas metal arc welding (GMAW). A special focusing lens is used to focus the laser beam. This creates a high energy density, which quickly melts the material. The result is very deep penetration as well as high speed and strength. Another advantage of this welding process is the low thermal load and thus low distortion. Gas metal arc welding involves melting the wire electrode under a gas shroud. The gas used emerges on the welding torch around the wire, keeping the welding location free from oxygen and thereby preventing oxidation. The advantages of gas metal arc welding include its outstanding gap-bridging ability, easy seam preparation and targeted manipulation of the heat input.
The LaserHybrid head forms the heart of the welding process
Fronius has taken the key characteristics, benefits and advantages of both welding processes and brought them together in a single system. During LaserHybrid welding, a laser beam initially heats the surface of the component, resulting in deep, narrow penetration. The arc then forms a wide weld pool to provide outstanding gap-bridging ability. At the same time, deep penetration can be achieved. At the heart of the welding system is a compact LaserHybrid head with an integrated MIG/MAG welding torch and built-in laser optics. Different welding heads are available for various applications, in the automotive industry, shipbuilding or pipeline construction, for example. A robot holder forms the link between the LaserHybrid head and an industrial robot. This gives the LaserHybrid head the flexibility it requires to access difficult-to-reach areas of the component. The welding wire can be placed in any position with respect to the laser beam, thus enabling the joining process to be adapted precisely to the wide variety of seam preparations, outputs, wire types, wire grades and joining tasks.
Hybrid system: quick, cost-effective and powerful
The interplay between GMAW and laser welding results in an extremely stable welding process with a high degree of thermal efficiency. The LaserHybrid welding process from Fronius is ideal for joining thin-sheet metals in series production – as is required in the automotive industry, for example. It is also a suitable solution for welding thick sheets, for which considerably fewer weld layers are required, such as in shipbuilding. With Fronius LaserHybrid, it is possible to carry out automated joining of different aluminium and steel items at speeds of up to 8 metres per minute, in superlative quality. Users primarily benefit from the extended range of welding options and minimum effort required when it comes to seam preparation. The results are also virtually faultless. Complex and time-consuming seam rework is only necessary in rare instances. What is more, users can also weld edges created by plasma cutting, guillotine-shear cutting or flame cutting. All this means that LaserHybrid welding plays a significant role in reducing production and operating costs.
LaserHybrid on TPS/i
Fronius power sources provide the necessary energy and computing power. To date, the LaserHybrid system has been available with the TPS (TransPuls Synergic). Fronius is now also offering the hybrid process in combination with the innovative TPS/i power source. The TPS/i is a welding system with a modular structure that consists of networked and perfectly harmonised components. It has a high-performance processor and a high-speed bus, meaning that greater amounts of data can be transferred even more quickly and control loops are faster than ever before. This results in increased welding speeds, more precision and outstanding welding results. Further advantages of the TPS/i are the various dip transfer and pulsed arc processes – such as the Fronius-developed LSC (Low Spatter Control) and PMC (Pulse Multi Control) – that can be used with the aid of function packages. These allow the welder to use the same system for different applications, saving time, money and effort. The TPS/i also offers a wide range of options for networking and data documentation so that welding processes can be evaluated and optimised where necessary. Now users will also be able to benefit from all of these advantages with LaserHybrid welding.
Patented Crossjet unit protects the LaserHybrid head from spatter
A coated optical protective glass is used to protect the laser optics from damage and keep the system ready for operation. The LaserHybrid head uses a closed Crossjet unit to ensure that the protective glass itself remains clean, undamaged and transparent for the laser. An air flow very effectively diverts any welding spatter into an extraction channel at supersonic speed. The air flow itself is also extracted before it can reach the weld area and interfere with the work of the shielding gas. The processing cell remains free of contaminants and welding fumes. This reduces errors on the device and ensures a high level of availability.
More from Communication Systems & Equipment