High-Side FET Driver suits lithium-ion battery applications.
Press Release Summary: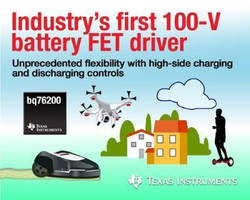 Housed in 16-pin, 5 x 4.4 x 1 mm TSSOP package, 100 V Model bq76200 drives high-side N-channel charge and discharge FETs in batteries commonly used in energy storage systems and motor-driven applications. Device provides protection against inductive transient events, which can cause battery voltages to jump as much as 200% above normal. Fast-switching feature minimizes fault response time and disables discharge FET if battery has been severely discharged.
---
Original Press Release:

TI Drives High-voltage Batteries with Industry's First 100-V High-side FET Driver



Unprecedented flexibility and power protection for advanced industrial battery applications



DALLAS, – Texas Instruments (TI) (NASDAQ: TXN) today introduced the first single-chip 100-V high-side FET driver for high-power lithium-ion battery applications, delivering advanced power protection and control. The bq76200 high-voltage solution efficiently drives high-side N-channel charge and discharge FETs in batteries commonly used in energy storage systems and motor-driven applications, including drones, power tools, e-bikes and more. For more details, see www.ti.com/bq76200-pr.



Compared to typical 50-V low-side FET driver solutions, the 100-V high-side FET driver provides greater protection against possible inductive transient events in motor-driven applications, which can cause battery voltages to jump as much as 200 percent above normal. The bq76200 also helps maintain constant battery monitoring and enhanced system diagnostics - even when charging and discharging is disabled.



Key features and benefits of the bq76200:



--  Versatile supply voltage range: Compatible with a variety of battery architectures, capacities and voltage ranges from 8-V to 75-V, with an absolute maximum of 100-V.

--  Advanced-protection FET control: The fast-switching feature minimizes fault response time and disables the discharge FET if a battery has been severely discharged.

--  Quick development time and reduced overhead: The adaptable driver works with small to large power FET arrays by simply scaling the charge-pump capacitor, reducing engineering overhead and speeding development time.

--  High integration and small package size: The bq76200 integrates a high-voltage charge pump and dual FET drivers into one 5-mm by 4.4-mm by 1-mm thin shrink small outline package (TSSOP).



The bq76200 can be used in conjunction with the bq76940 battery-monitoring family, allowing for the application to move to a high-side FET drive and ensure that communication is always possible. The bq76200 can also drive TI's CSD19531Q5A 100-V NexFET™ power MOSFET as showcased in the bq76200 evaluation module.



Pricing and availability

The bq76200 is available now in the TI store and through the company's authorized distribution network. The driver is packaged in a 16-pin TSSOP and is priced at US$1.69 in 1,000-unit quantities.



Find out more about TI's battery-management solutions:



--  Read the blog post, "Big batteries? Talk a walk on the (high) side."

--  Watch the videos, "TI's bq76200 100V Battery High-Side FET Driver" and "Introduction to the bq76200 EVM."

--  Visit the TI E2E™ Community Battery Management forum to search for solutions, get help, share knowledge, and solve problems with fellow engineers and TI experts.



About Texas Instruments

Texas Instruments Incorporated (TI) is a global semiconductor design and manufacturing company that develops analog integrated circuits (ICs) and embedded processors. By employing the world's brightest minds, TI creates innovations that shape the future of technology. TI is helping more than 100,000 customers transform the future, today. Learn more at www.ti.com.



Trademarks

WEBENCH is a registered trademark and TI E2E and NexFET are trademarks of Texas Instruments. All other trademarks belong to their respective owners.



CONTACT: 

Leah Harris

Texas Instruments

214-567-0106

leah@ti.com



Web Site: http://www.ti.com

More from Controls & Controllers