High Pressure Pumps offer flow rates from 0.3-0.7 gpm.
Press Release Summary: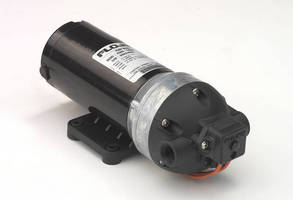 Featuring 3 chamber configuration, Flojet® Triplex® Series High Pressure Pumps operate at flow rates up to 1.4 gpm and operating pressures of up to 150 psi. Compact self-priming units provide stable bypass pressures from 120-125 psi. Injection mold diaphragm technology in unit virtually eliminates potential leak paths. Corrosion resistant products are made from Santoprene®/EPDM and Santoprene®/Viton®, and are available in 12 Vdc, 24 Vdc, 115 Vac, and 230 Vac models.
---
Original Press Release:

Flojet Triplex High Pressure Pumps Now Perform Even Better!



These redesigned and improved pumps offer unequaled performance and life.

Santa Ana, CA - ITT Corporation (www.flojet.com), a leading manufacturer of small motor and air-operated pumps for industrial markets, has just introduced the redesigned Flojet® Triplex® Series High Pressure Pumps - engineered to be the most advanced and reliable pump available. "The proprietary design along with recent advancements made to these pumps has enabled us to provide a product that is best in class," said Luis Gonzalez, Product Manager at ITT Corporation. "They are the most versatile pumps on the market and are the ideal solution for general industrial, floor care, agricultural, and automotive services industries with applications that include spraying, misting, filtration, cooling, dispensing, and pressure boosting."

Flojet's unique three chamber configuration allows these self-priming pumps to operate at exceptional flow rates up to 1.4 GPM (5.3 LPM) and operating pressures of up to 150 PSI (10.3 Bar). They are built with the latest co-injection mold diaphragm technology, which virtually eliminates potential leak paths, and can run dry for extended periods of time without damage.

Enhancements include:

o Improved priming

o Stable bypass pressures from 120 PSI to 125 PSI (flow range from 0.3 GPM to 0.7 GPM)

o Pump life performance increased by 25%

o Compact pump size for applications with space restrictions

The Flojet Triplex Series High Pressure Pumps are available now in 12V DC, 24V DC, 115V AC, and 230V AC models, and being made from Santoprene®/EPDM and Santoprene®/Viton® makes them capable of handling a broad range of chemicals without corrosion. Contact your local sales manager, or visit www.flojet.com for more information.

ITT - Flojet
ITT - Flojet (www.flojet.com) is a leading manufacturer of small motors, diaphragm pumps, searchlights, valves and value added systems, used for RV, Industrial, and Beverage applications. Headquartered in Santa Ana, California, Flojet products are sold worldwide through sales representatives and authorized distributors. Flojet is part of ITT Corporation.

ITT Corporation
ITT Corporation is a high-technology engineering and manufacturing company operating on all seven continents in three vital markets: water and fluids management, global defense and security, and motion and flow control. With a heritage of innovation, ITT partners with its customers to deliver extraordinary solutions that create more livable environments, provide protection and safety and connect our world. Headquartered in White Plains, N.Y., the company generated 2009 revenue of $10.9 billion. www.itt.com.

Contact Information:

Rich Occhipinti

978-282-5259

Rich.Occhipinti@itt.com

Flojet
666 E. Dyer Road,

Santa Ana, CA 92705

USA

Tel: +1 714 557 4700

Fax: +1 714 628 8478

Bingley Road, Hoddesdon,

Hertforshire IN11 OBU,

United Kingdom

Tel: +44 (0) 1992 450 145

Fax: +44 (0) 1992 467 132

More from Electrical Equipment & Systems