Network Analyzers (Electrical)
High Performance Digital Signal Level Meter Conducts MER and BER Testing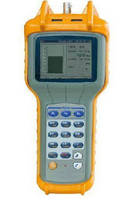 Toronto, Canada - GAO Comm (www.GAOComm.com) recommends its high performance digital signal level meter intended for analog and digital television network construction and maintenance. This signal level meter conducts measurements of digital-analog-mixed networks and performs Tilt, C/N, voltage, MER, BER (bit error rate) and V/A tests.



This digital signal level meter, model A0N00010, features a handheld design, high accuracy and automatic channel power test. It also features optional PC toolbox software and constellation diagram display. Through spectrum and channel scanning functions, network faults can be easily diagnosed and analyzed.



This digital meter accurately measures the average power of the DVB-C digital signal as well as the frequency power levels. It operates over a wide frequency range of 5 to 870 MHz and offers a signal level measurement range from 30 dBμV to 120 dBμV with a high level precision of ± 1.5 dB. What's more, it utilizes USB and RS232 interfaces for data exchange.



This high-performance digital signal level meter belongs to GAO's family of CATV Meters & Instruments. Featured products in this line also include TDR Cable Fault Locator which is commonly used in testing underground cables to find out impedance break points and locating and revealing cable damage and terminal impedance failures in HFC systems, Portable PCM Channel Analyzer which has functions for measuring PCM voice encoding and decoding performance characteristics and is specially used to measure PCM devices, digital switches, carrier wave communication devices and VoIP devices and High Performance TV Signal Analyzer which is available with spectrum measurement, DVB-S/S2 signal analysis, DVB-C signal analysis, remote feeding and control signal setting, and TS analysis and monitoring.



For sales inquiries please contact:

1-877 585-9555 ext. 601 - Toll Free (USA & Canada)

1-416 292-0038 ext. 601 - All Other Areas

sales@gaocomm.com



About GAO Comm

GAO Comm Inc. (www.GAOComm.com) is a well-known supplier of optical and electrical equipment and test instruments which are widely used in Telecommunications, CATV, Power industry and for Science and Research.



More from Computer Hardware & Peripherals