High-Output LED Searchlight is designed for marine applications.
Press Release Summary: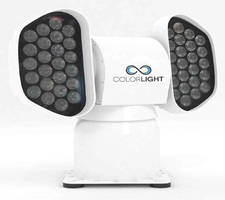 Providing full movement on X and Y axes for unlimited rotation without any hard stops, Colorlight CLite2 draws 850 W max and has dimmable output of up to 2.4 million candela and 40,000 lm. LED lights are installed in powder-coated aluminum housing that optimizes heat disbursement, and acidproof, stainless steel base can be networked with multiple panels. Available with or without integrated FLIR thermal imaging camera, searchlight offers 5° beam angle and 4,921 ft range.
---
Original Press Release:
Imtra Announces Clite2 LED Searchlight
Marine Importer's New Searchlight Offers a Complete, Compact and Energy Efficient High-Output Solution

New Bedford, Mass. – IMTRA, the leading manufacturer and importer of quality marine products, announced today its new high-output LED searchlight – the Colorlight CLite2.

The Colorlight CLite2 LED Searchlight from IMTRA is the first compact, high-output LED searchlight that provides full movement on both the X- and Y-axis for unlimited rotation with no hard stops. The LED lights are installed in a powder-coated aluminum housing that provides optimal heat disbursement. The searchlight features an acid-proof, stainless steel base and can be networked with multiple intuitive panels allowing operation from an unlimited number of operator stations.

"When a vessel is in a situation that requires a searchlight, lives may be hanging in the balance," said Alex Larsen, vice president of commercial sales, IMTRA. "While some existing searchlights offer 360- or even 370-degree movement, when they hit the hard stop the operator is required to spin the light back around and re-acquire the target. This can be all that is needed for a person overboard or an obstruction in the water to be lost. The unlimited versatility and maneuverability of the CLite2 makes it the perfect option for any vessel."

Available with or without an integrated FLIR thermal imaging camera, the Colorlight CLite2 LED Searchlight from IMTRA sports a modern, functional design, and features reliable and durable construction. The unit can operate up to 10 years without scheduled maintenance and is at home in the harshest of conditions. Designed for patrol and service vessels including police, fire, and search and rescue units; pilot boats; and wind farm maintenance boats; as well as recreational yachts in the 45-125 foot range, the CLite2 has a beam angle of 5 degrees, a range of 4,921 feet (1500 meters) and continuous maneuverability for superior sea area coverage. For installation in 24VDC, and 100-240VAC environments, the CLite2 draws 850W maximum and has a dimmable output of up to 2.4 million candela and 40,000 lumens. The unit measures 19.61-inches high, 22.24-inches wide and has a depth of 10.04-inches – ideal for installations where space is limited and a high-intensity light is needed. Fully networkable, a combination of multiple searchlights and control panels can be networked together over Ethernet. Optional controls include sweep, surveillance, fixed-position and network synchronization.

Availability
The Colorlight CLite2 LED Searchlight is available through IMTRA's network of marine retailers, shipyards and marine retrofitters throughout the United States, as well as online www.imtra.com. For more information on the Colorlight CLite2 LED Searchlight, please visit www.imtra.com/lighting-colorlight.htm. For information on IMTRA or its entire product line, please call 508-995-7000 or visit at www.imtra.com.

About IMTRA:
IMTRA, based in New Bedford, Massachusetts, is an importer and manufacturer of high quality marine products, advanced LED solutions and integrated marine systems, as well as a key supplier to the OEM and aftermarket. With over 60 years in the commercial, industrial and marine markets, IMTRA has sales and support teams in 10 regions throughout North America. The company's extensive product knowledge is available to its customers through a renowned full-service department and professional customer service group. Product categories include Lighting, Thrusters, Stabilizers, Anchoring Systems, Wipers, Antennas, Gangways, Seating, Controls and other specialty products. In addition to their own proprietary products, IMTRA represents well-known international brands that include Side-Power, NorSap, Vimar, Lumishore, Lofrans, Muir, Exalto, Colorlight, Roca, Lilaas and many more. www.IMTRA.com/about-IMTRA.htm.