High Intensity Boat Light integrates PWM LED drivers.
Press Release Summary: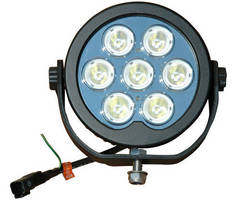 Supplied in IP68-rated, heavy-duty aluminum housing with unbreakable polycarbonate lenses, Magnalight LED-BL-70W withstands harsh conditions of marine environments. LED light bar contains seven 10 W CREE XLamp MC-E® LEDs and provides 6,000+ lm of white light while drawing 70 W @ 5.84 A when connected to 12 Vdc current. Also included, PWM LED driver technology provides active heat management and allows connection to external dimmer or strobe controls.
---
Original Press Release:

Magnalight.com by Larson Electronics Announces Addition of High Intensity LED Boat Light with PWM LED Drivers



The Magnalight LED-BL-70W LED Light Bar from Larson Electronics' offers rugged construction combined with advanced pulse width (PWM) LED driver technology to provide a versatile LED boat light of excellent efficiency and durability. This compact LED boat light can withstand the harsh conditions of marine environments and provides over 6,000 lumens of light while using less power than traditional halogen boat lights. These LED lights feature PWM LED driver technology that provides active heat management as well as the multi-function capability.

The LED-BL-70W LED boat light from Magnalight.com draws only 70 watts @5.84 amps when connected to 12 VDC current yet produces over 6,000 lumens of intense white light. Designed for harsh marine environments, this powerful LED boat light is IP68 rated waterproof to three meters and fully sealed against intrusion from water, dust and contaminants. Containing seven 10 watt Cree LEDs, this compact LED boat light produces more light than comparable halogen boat lights, yet uses less power and lasts for 50,000 hours of operation. To provide highly versatile operation and excellent heat control, this LED boat light contains advanced pulse width modulation (PWM) LED drivers that actively monitor LED heat and modify current accordingly to maintain an optimum LED operating temperature, in turn providing maximum LED output and lifespan over a wide range of operating conditions. These advanced LED drivers provide additional versatility by allowing users to connect external dimmer or strobe controls, which allows operators to precisely control light output as well as function. As well as function and heat control, the PWM driver technology in these high intensity LED lights also automatically adjust input current to the proper levels, allowing these units to be used with electrical voltages ranging from 9 to 48 volts DC without the need for added hardware or transformers. Heavy duty aluminum housing construction and unbreakable polycarbonate lenses provide excellent durability that allows these LED lights to withstand the demanding condition of harsh and corrosive salt water environments without any reduction in performance. The CREE XLamp MC-E® LEDs used in these units offer the highest possible LED quality and are rated at 70% lumen maintenance after 50,000 hours of operation, making these units far longer lived than comparable halogen boat lights. An adjustable trunnion mounting design with a single mounting stud allows users to mount these LED lights to almost any surface that will accept a mounting hole and provides 90 degrees of vertical adjustment once mounted. These LED boat lights are ideal replacements for incandescent, halogen, and even metal halide boat lights, and offer durability, power, and longevity that none of these old lighting technologies can match.

"Good lighting is a must for boaters to navigate safely in the early morning and night hours; the LED-BL-70W meets the need with 6020 lumens of bright white light to guide boaters on their journey safely," said Rob Bresnahan with Larson Electronics' Magnalight.com. LED technology with watertight construction and low amp draw on low voltage circuits can't be beat as a replacement for old incandescent boat lights."

Larson Electronics' Magnalight.com carries an extensive inventory of LED boat lights, LED spreader lights, LED spotlights and 12/24 volt LED lights. Visit Magnalight.com to view their entire inventory of LED lighting solutions or contact them for more information by calling 1-800-369-6671 or 1-214-616-6180 for international inquiries.

More from Cleaning Products & Equipment